Dress up this Town: Separates Edition!
I'm excited to be a part of Ti's "Dress Up this Town" blog tour today! You might be noticing something different about my post…..it doesn't contain any dresses!
I'll confess to a bit of a misunderstanding here- when Ti posted the call for this tour and the accompanying song (I love a good theme song!), I took it to mean dressy clothes, as in fancy attire one might wear for a dinner or night on the town. I didn't realize until the first post debuted that she meant "dress" literally! I could have changed my plans and sewn up a dress instead, but Ti was quite gracious in allowing me to interpret the theme in my own way, and to be honest, I find separates much more versatile and practical than dresses.
Of course, this meant that I needed to sew two things, rather than just one! I started with the Ella cami by Designer Stitch (affiliate link). In keeping with my alternative viewpoint, this pattern was actually designed to be pajamas, but I saw the potential for a beautiful day/evening wear blouse, so I went for it!
I used a mystery crepe woven fabric from my adventures at the National City Swap Meet- at $1/yard this can't be beat! It was quite easy to work with, but somewhat sheer, so I opted for a full lining instead of a facing.
Other changes included adding 9 inches, eliminating the ruffle, and cutting the top layer 3″ shorter than the bottom layer to add interest. With the full lining it's opaque enough to obscure any undergarments, but still light and airy- perfect for my own "summer of wovens". Of course, it's nursing accessible as well- I wouldn't sew anything that wasn't! If you're new to sewing with wovens, check out my tutorial HERE!
Designer Stitch is a new-to-me company, and I was very impressed with her drafting, instructions, and style. Most of her patterns are actually for wovens, which is perfect, since I'm really getting into sewing with them! I love how Ann includes the finished garmet measurements and a thorough list of body measurements in the pattern- this ensures a great fit every time.
The Ella also includes an option for pajama pants, which I desperately need more of ( I think my newest ones are at least 7 years old!) and is FREE if you join her group for the code! While I was at it, I also picked up a copy of the Willow kimono pattern, so you'll be seeing more of Designer Stitch soon!
Now I had a top, but now what to pair with it? My original plan was a pair of culottes, to replicate this pinspiration: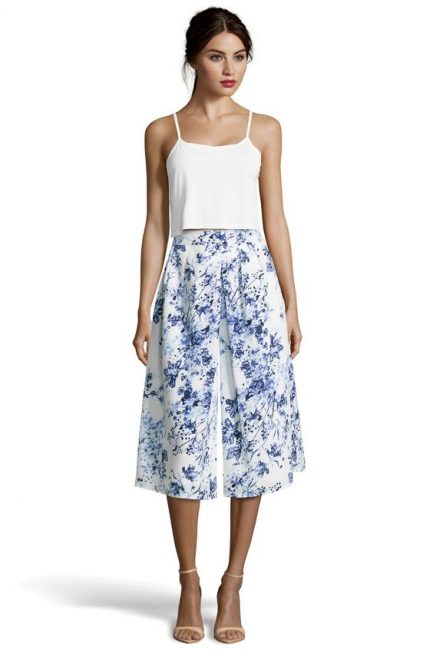 Unfortunately, while I love the culottes I sewed (they'll be featured soon), they were too loose to be a good match for the top (I don't think this would be a problem if I was 6′ tall like the model! #shortpeopleproblems)- so I had to come up with another plan, and FAST.
With all three kids at my heels, I turned to my new favorite skirt pattern: The Duchess by the DIBY club. No, you still can't buy it yet (soon! Don't be mad at me- go bug Jessica in her group here!) but when you can, you'll want to run and snap it up. The Duchess is such a classy lady, and totally bailed me out of my dilemma in 20 minutes flat. The fuschia liverpool is from one of my favorite shops: Pretty Posh Prints! It was originally planned for a bomber jacket (see the sewalong round up here) but I ran out of steam after 5 bombers, so it languished on my shelf for a while- no more!
With the shirt tucked in, a statement necklace, a belt, and a pair of pretty earrings, my "Night on the Town" outfit was complete.
I'm really happy with this look, and I know it will get plenty of play in my wardrobe. I think the top will look great untucked with a pair of skinny jeans, and the skirt would look awesome with a lacey camisole as well.
What's your opinion? Do you gravitate toward separates or prefer one-piece outfits, like dresses and rompers? Leave a comment below! If you enjoyed this post, you can sign up for email updates HERE, and follow me on Instagram HERE!
Just for fun, here's what boys do when you take photos- they catch crickets to feed their lizard (don't ask me how we ended up with a lizard…it just happened). He came home with a POCKETFULL…and watching the lizard eat is always a fun pastime.
But WAIT! That's NOT ALL! You can also enter to win some PRIZES from this week's awesome sponsors:
What's up for grabs? Glad you asked!
$20 store credit to Made For Mermaids
3 Patterns from Peekaboo Pattern Shop
2 Patterns from Seamingly Smitten
3 Patterns from Sew House 7
$15 store credit to Tie Dye Diva
Wow! Prizes make everything more fun!
Don't forget to check out the other amazing bloggers on the tour below:
Week 1: July 1st-8th
1- Sewing By Ti (Intro) ***You are here. 😀 and Stitching At Night
2- Me Made
3- Tenille's Thread
4- Sewing By Ti
5- Seams Sew Lo
6- Anne Mari Sews
7- Sea of Estrogen
8- Lulu and Celeste
Week 2: July 9th-15th
9- Living in Twinado Valley
10- Ma Moose
11- My Heart Will Sew On
12- Seams Sew Lo
13- Kate Will Knit
14- Creative Counselor
15- Sewing With Sarah
Week 3: July 16th-22nd
16- Stitching and Making
17- That's Sew Lily
18- Sprouting Jube Jube
19- Auschick Sews
20- Anne Mari Sews
21- Lulu and Celeste
22- On Wednesdays We Sew
Week 4: July 23rd-31st
23- Stitching At Night
24- Sewing Curves
25- My Heart Will Sew On
26- Indulging Mum
27- That's Sew Lily
28- Adventures With Bubba and Bug
29- Capture, Craft Cook
30- Sewing By Ti
31- Sew Like a Sloth
Note: This post contains affiliate links. If you choose to purchase a pattern using my links, a small portion of this goes back into my sewing/blogging addiction! Thank you!