Who remembers boom boxes, mix tapes and corded headphones? The screech of rewinding old tapes to hear your favorite song again and again?
I do! So when Max and Meena Patterns sent me these designs to play with, I was like "totally dude"- I can rock that.
And I can make clothes for my kid so that someday, I can tell her all about it, and she can stare at me in disbelief while holding her super-tiny-and-possibly-a-microchip-embedded-in-her-skull-music-player.
Seriously though, these fabrics are awesome, and carry the rare distinction of being appropriate not only for kids, but adults too! I love it when customs are versatile like that.
Since I had two children's panels to work with, I made something for me first (the first rule of sewing: always put on your own mask- I mean clothes) first!
I used the Hallå Stardust Tank (free if you join their Facebook group), with the panel and coordinate as the main front and back, and powermesh from Phee fabrics for the side panels and bands.
The back was cut on the cross grain to accommodate the amount of fabric I had to work with, but since this fabric has such great stretch, it worked perfectly. I also did a raw cover stitched edge on the bands, with a serged layer peeking up from the neckline, to give it an edgy feel. The fit is spot on, and I've been wearing it nonstop since it was finished.
I also made the Heartbreaker Cami from Patterns for Pirates with shoulder flutters in tunic length for Princess (made before here), and a pair of Bonny shorties with contrasting legs for easy to wear bottoms.
Purple sparkles from Pink Zeppelin Fabrics were great, as always, for a coordinate, and made it a little more girly (though it never fails, we always get asked if she's a boy even when she's wearing head to toe pink- someday her hair will grow in people!! Stop judging gender by hair length!).
I also added a little appliqué to the front with one of the Mix tapes- I find that in kids outfits especially, its the details that really lend a boutique look.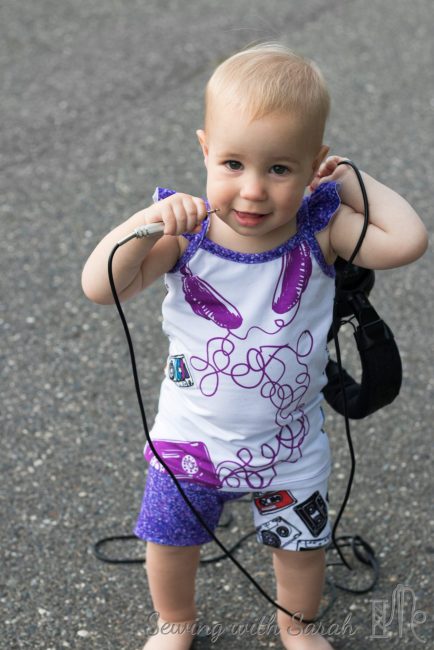 For our photos, we broke out my husbands old headphones and mix tapes, which she quickly figured out how to pull apart! So that's the last of my mix tape stash, but it was worth it!
Do you still have any mix tapes? What were your favorite 80s songs?
Don't forget to order from this round– closes 5/10!