I've mentioned before that my son Oliver LOVES fencing. And at twice per week, its pretty ingrained in the rest of us too (even the baby knows a few moves!).
So when the "knights and dragons" round 13 at Beanpop Fabrics came up for strike offs, I jumped on it, knowing I would have to make my boys something epic to feed into their fantasy world of harrowing adventure, fierce swordfighting, and daring rescues. I let the boys pick their favorite print, and they chose the "King Dragon".
As it turns out, my husband also fell in love with the fabric, and requested a matching shirt, and I couldn't resist sewing up something for my littlest swashbuckler out of the scraps.
For the boys, I started with the Knight Hoodie Pattern by Charming Doodle. I rarely see this one made up- but its an excellent pattern, with thorough instructions and easy to assemble pages (no layers though). However, as summer is fast approaching I didn't want to make up a full zip hooded sweatshirt that wouldn't get any love until winter, so I took the shoulder guard and helmet pieces, and mashed them with the free Brindille and Twig Scuba Hoodie, because I liked how the high neck and hood mimicked a knight's hood/neck armor.
While the Brindille and Twig Hoodie only goes up to 6T, I knew the fit was roomy from previous makes, and so I simply lengthened it to fit my taller son (at some point it seems like kids just get taller, not wider!). I also shortened the sleeves to make a raglan t-shirt, applying the helmet piece and shoulder armor pieces from the Charming Doodle pattern during construction (wash away wonder tape was invaluable here in helping with positioning).
A search through my stash revealed the perfect set of silver buttons, and I was able to find some fleur de lis buttons at the craft store to match the gold version.
There was brief drama over who would be the gold and who would be the silver knight, but it was quickly resolved (thank goodness!). The silver, black and blue sparkles are from Pink Zeppelin Fabrics, and the Gold Sparkles are from Stardust and Moonbeam Sparkle and Glam Round (used before here)
After frankenpatterning the boys shirts, it was a relief to turn to the simplicity of the Dylan Tee for my husband (sewn before here), using the smaller scale King Dragon print for the front and back and black sparkles for the side panels. I ran out of coordinate for the sleeves, but substituted a black double brushed poly from So Sew English, and I think it works well. He was quite pleased with it- even big boys like to immerse themselves in fantasy, and even after 13 years of marriage, he is still my "knight in shining armor".
Determined to use every last scrap, I sewed Princess a simplified Violet Tunic (made before here) using the main larger scale print for the front and back and blue sparkles for the side panels. She's practicing her "advances" and "retreats", and working her way up to a real sword.
We took our photo shoot to a local park with a play castle, and had a fun time posing for shots with real swords borrowed from Oliver's fencing instructor. We watched the skies for dragons, but must have just missed them! Their expressions in these photos crack me up- they didn't want to smile because "knights are serious mom". This dragon fighting and castle-defending is no joke, my friends.
A sentry must remain alert at all times.
Ready to attack!
Do you have a couple knights or dragons in your family? Don't forget to order from this round at Beanpop– closes 6/24!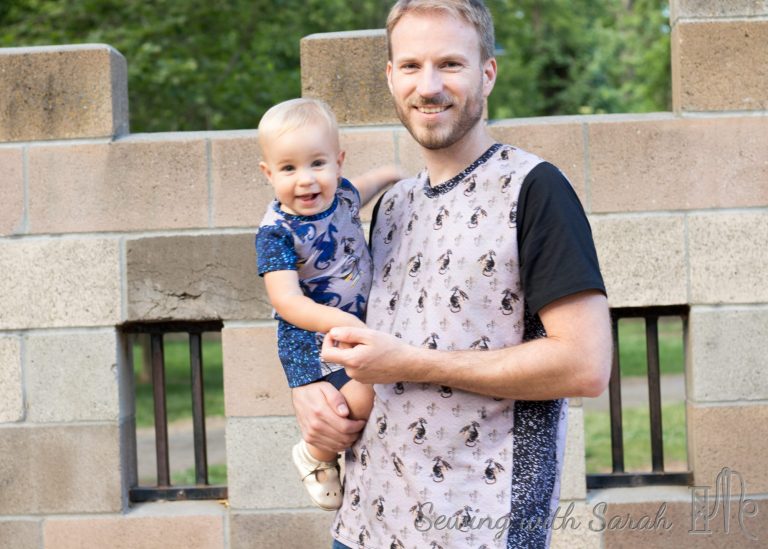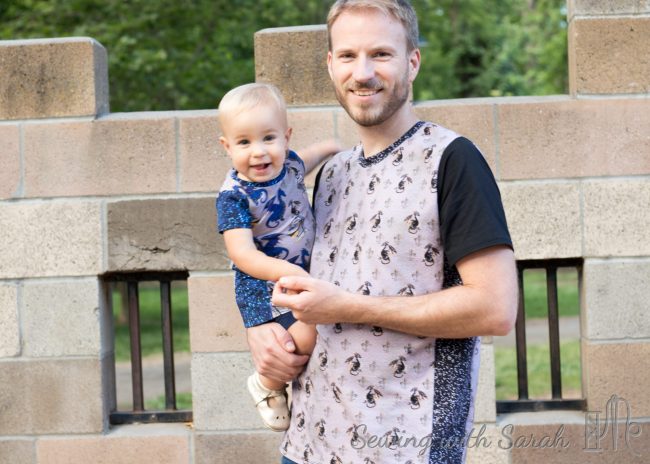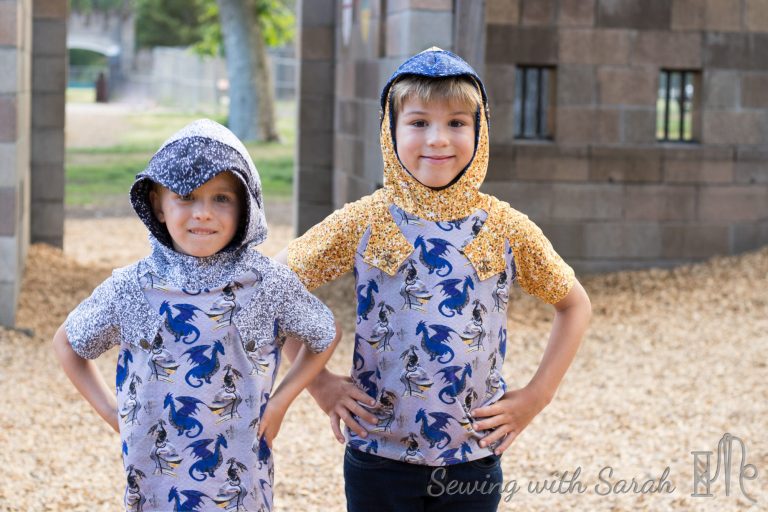 If you're still with me after all those photos, please share! What costumes do you sew for your kids/family?
Note: this post contains affiliate links. If you choose to purchase an item using the link a small amount of your purchase goes back to me to help fund my crazy costume making!