Tested: Helen Dress by DIBY
I've cut back quite a bit on my testing lately, but every so often something comes along that really catches my eye, or fits in perfectly with my plans, and then I use the testing deadline to motivate myself to get it done!
That was the case with the newly released Helen Dress by DIBY– I saw the line drawing, and knew it would be perfect as a beach cover up (see any theme to my posts lately? It's Water, sand, water, trees, water, sand rise and repeat)
For my test version, I chose a heathered grey bamboo knit from the Fabric Fairy.
I've worked with Meg's bamboo before, and been absolutely floored by its weight and texture. It's nothing like a thin drapey rayon spandex- almost akin to French terry or double knit in the weight, but with a beautiful drape and feel- pretty much the perfect fabric for everything from summer skirts to lightweight hoodies.
I chose the scoop neck, racerback, mid thigh version, shortening the bodice 1″ and the skirt 1.5″ to get it right where I wanted it. I feel like it's especially important, on dresses with a defined waist, to make sure the waist hits at the smallest spot for the most flattering silhouette.
The scoop is *just* low enough to be nursing friendly- though I might lower it a tad bit more in hte future, or narrow the bands, to make the access even easier. The crossover bodice would be even more nursing friendly- and I'm looking forward to making that variation as well.
I also added in the pockets, of course. What's a beach dress witout a place to store your sunglasses/snacks? These are nice and deep, and easy to construct.
The length of hte dress is also very important- the mid thigh length elongates my rather short legs, and is breezy without being scandalous. As always, DIBY provides plenty of pattern measurements to help you get these proportions right, which is much appreciated (although I should always make a muslin, I'm usually hoping it turns out wearable!).
Fit wise, I'm on the edge of the size 0 measurements for my hips, and I made a straight size 0. I did feel like I might appreciate a little more room in the bum/thigh area- although my husband approves of the way this dress cups my rear, I think I could use a little extra fabric there to feel the most comfortable. Next time, I'll sew that part with a 1/4″ seam allowance instead of a 3/8″ seam allowance, and I think it will be just about perfect.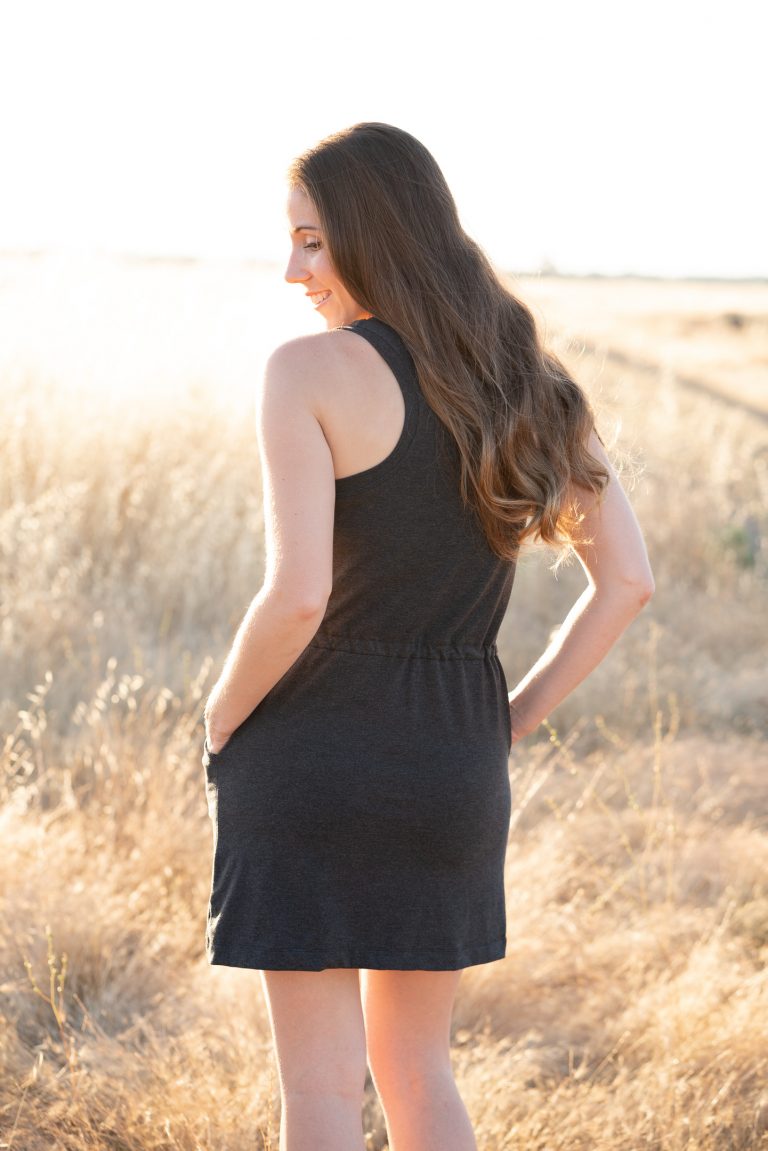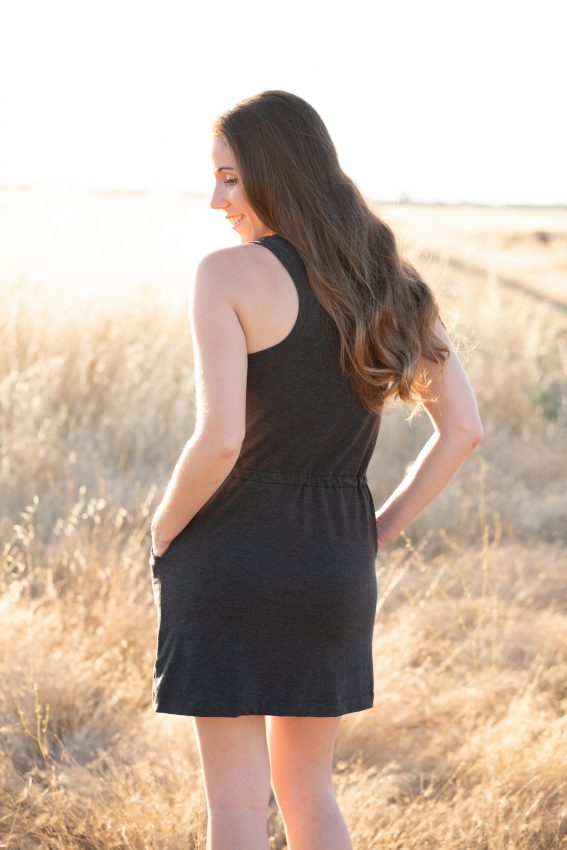 As usual, my grommets were installed with my grommet press (love that thing so much!) and I used black twill tape for my drawstring, because life's too short to turn those little drawstring tubes!
After making the dress, I found that I liked the racerback cut so much, I hacked it into a tank- I'll be posting that next week, so keep an eye on my Facebook page/Instagram!
In fact, this pattern lends itself quite well to hacking, so don't be surprised if you also see a skirt and romper from this same base!
Are you sewing for summer right now? What are your favorites? Drop me a comment below!
If you enjoyed this post, you should also check out my YouTube channel, where I have lots of tips, tricks and sew-alongs to share!
Note: This post contains affiliate links. Thank you so much for your support!