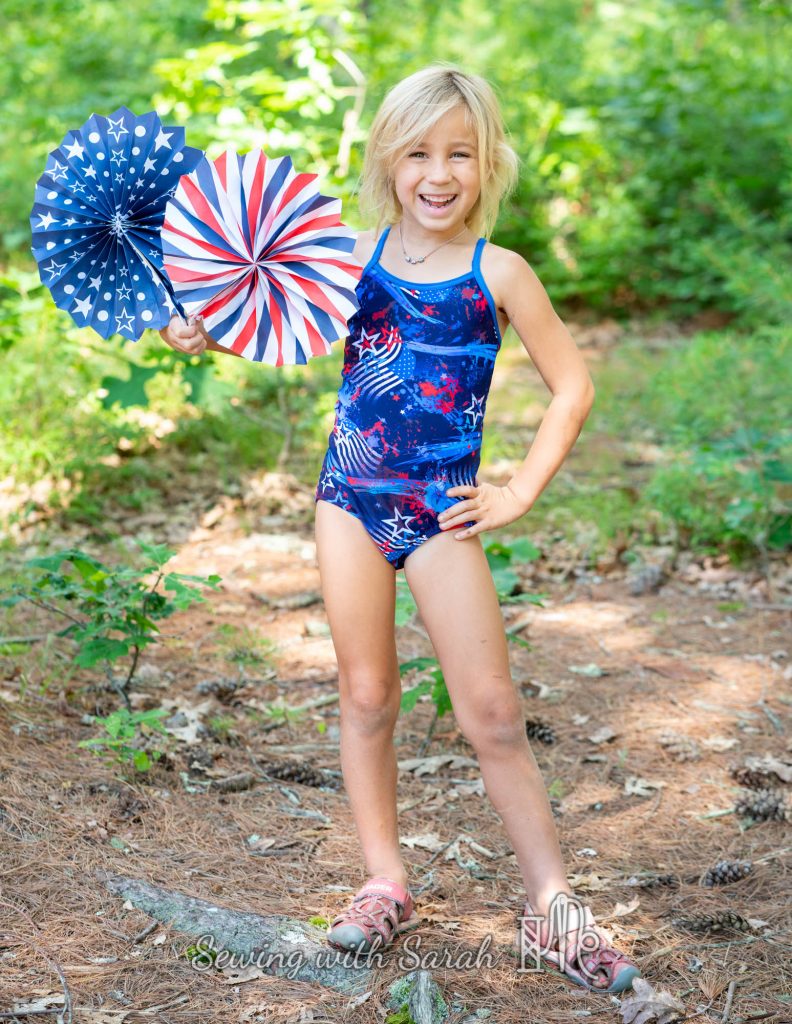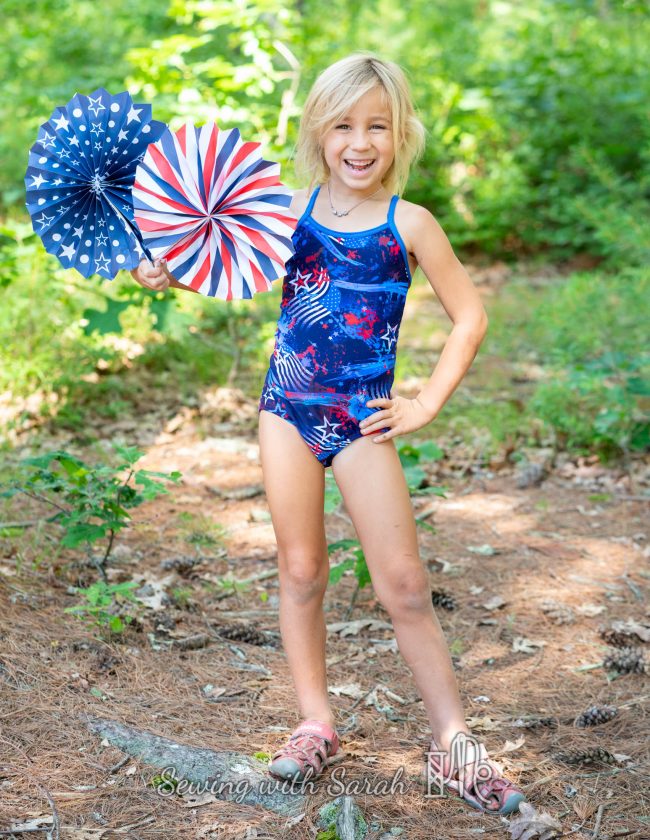 Hello friends! Happy 4th of July!
This year, we are celebrating Independence day in Bar Harbor, Maine and hope to enjoy parades, fireworks and BBQs with our traveling family.
While I sewed this swimsuit up in Massachusetts, we just got to Maine yesterday, and took our first dip in the Atlantic Ocean this far north, and boy is it COLD! So, I'm not sure how much swimming we will be doing up here outside of a heated pool, but I decided to make my daughter a patriotic swimsuit to celebrate anyway.
Fabric & Pattern Details
For my fabric, I chose the "Splashy Celebration" print from Fabric Fairy's Americana collection. I used the Jaguar blue athletic/swim for the binding (leftover from another project), and lined the front with white ecofit lining.
I used the Jalie Camille leotard for her suit (made before, but unblogged), and modified it slightly by lining the entire front instead of using just the crotch lining piece. I intended to make myself a matching suit, but ran out of time.
I really like this pattern because it has a shaped back seam, eliminating any sway back wrinkles and really enhancing the fit at the waist. I made her the size "K" so she'd have a little growing room, and took about 4″ off the straps.
I topstitched the center back seam with my cover-stitch so the serged edge wouldn't bother her, and used this method for my binding. The straps and leg openings have rubber swim elastic in them, which I find holds up better than the cotton type, especially in chlorinated pools.
Awkward Photo Moment…
Funny story: She was really excited about this new swimsuit, and we decided to "borrow" some props from the campground bulletin board to make our photoshoot more fun.
Since the bulletin board looked kind of half done and abandoned, I figured no one would miss the little fans for 20 minutes. When I went to return them and pin them back up, I came across two very puzzled campground employees, who were trying to figure out where the decorations they had just put up had gone!
I very sheepishly had to admit that I had appropriated them for modeling, and thank goodness Sophia was there to back up my story. You never know what a 6 year old will say when mama's under pressure, so it wouldn't have surprised me if she had denied the whole thing just to get a reaction out of me, but she didn't.
Ice cream earned baby, ice cream earned.
I hope your 4th is filled with water, fun and fireworks- and maybe a little patriotic sew too!
Travel Update:
These photos were taken outside of Boston Massachusets! We had a great time exploring the city, and wish we could have spent more time there!
View this post on Instagram

We also took the time to explore Plymouth and New Bedford. We were a little "underwhelmed" by the famous "Plymouth Rock", but really enjoyed the Plimoth-Patuxet living history museum. The New Bedford Whaling Museum was another hit- this was a big industry in colonial and post-revolution America, and it was fascinating (if a bit sad) to learn about how it shaped this area of our country.
View this post on Instagram

If you want to see more pictures, you can check out our travel instagram HERE.
Disclaimer and shame-less self plug:
If you enjoyed this post, you can find all my sewing tutorials HERE on YouTube, or at the top of my blog under the "Sewing Tutorials" link (subscribe HERE). I received the fabric in this post for free (well, most of it) but the opinions are my own!