Can I have a proud, gushy parent moment for a minute? School is almost over, and I'm incredibly proud of how well my boys have done. We homeschooled for preschool and Transitional Kindergarten, and the decision to attend public school for K was not one we took lightly. It was a HUGE transition for them (and me!) to attend a structured, daily school, and despite my concerns, they both did amazingly well, developing friendships, independence and self confidence along the way. While we aren't sure what the future holds, its been a privilege to watch them mature this year, and blossom into young men.
A tradition in our house is to have a handmade outfit for the first (and last) day of school, and despite my inital plans to make something for the Princess from this Strike Off, I decided to sew up an outfit for Noah to show him how proud I was of how much he's learned this year. I used the Alphabet Panel and Chalk Stripes on preorder now from Peekaboo Pattern Shop. I order from nearly every round Amy puts out there (they are always so cute! I can't help myself!), so the opportunity to sew strikes for her was both exciting and economical!
I used the Duck Butt Designs Sideswipe pattern again (sewn before here and here), with the hood add on, and the Greenstyle Creations Hampton Shorts ( made before here) to make a fully coordinated outfit. I knew both of these patterns fit well, and would be embraced by my comfort-first kiddos. I used the chalk stripes coordinate for the back, pockets and half the hood.
The pencils here also coordinate well, or you could use a variety of solids. For the bands and shorts, I used a knit denim (similar available here), and I used TBK Prints yellow stars for a splash of color in the hood and pocket lining.
We took our photoshoot to our neighborhood school (not the one my sons attend, ironically!), and they had a great time posing and playing on the playground! This kid is such a natural- even if I did have to bribe him with ice cream!
He says his favorite part of school is recess. Can you tell?
He's also a natural reader, and loves to "teach" his sister.
Its hard to imagine that the next time he opens that door, he'll be a first grader. Where did the time go?
This is what you get when you ask your son to smile while he's hanging on the bars!
Head on over to Peekaboo and place your order- summer always goes by so fast, and you'll want to have your first day of school outfits ready! Round closes 6/24!
Here's what the rest of us were doing while this kid worked his magic: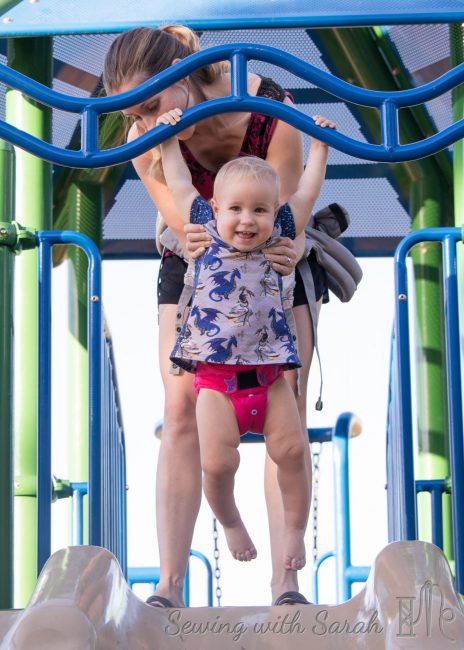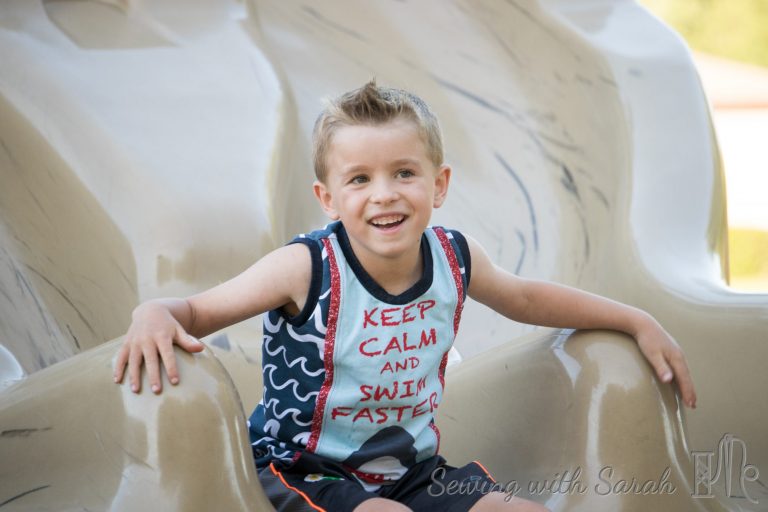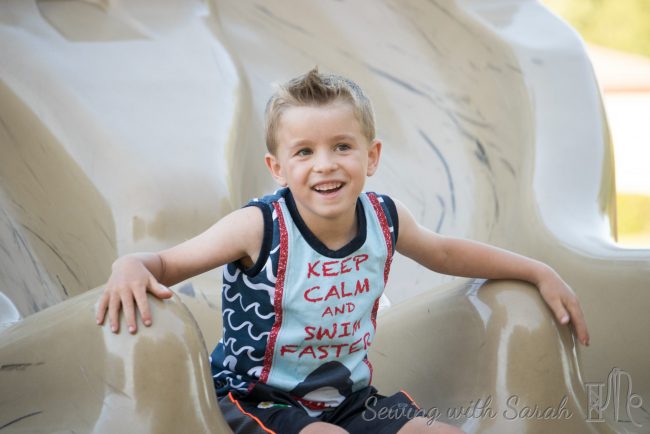 What are your back to school traditions? We are just establishing ours, and I'd love to get some ideas! Do they involve hand sewn items?
Note: this post contains affiliate links. If you choose to purchase items using these links a small portion of your purchase comes back to me, at no cost to you. It's a win win!