Brassie Jogger Hacks: Stretch Woven Brassies!
Every so often, someone asks if the Brassie Joggers (made before here and here and here) can be made in a woven material. I initially dismissed this idea, as possible but nuts- who would want to wear woven instead of a soft comfy knit? I changed my tune when another reviewer posted a photo of some denim Brassies she had made- they were so cute and reminded me of my favorite summer jean shorts- only much more comfortable (elastic waistbands are the BEST. THING. EVER).
I immediately ran to my sewing room and took the beautiful stretch floral denim from The Fab Clique Fabric Shoppe off the shelf. I had originally planned to use it to make Taylor Shorts (they're still on my list…but elastic waists get first dibs!), but it practically screamed to be a pair of denim Brassies, and I couldn't possibly tune it out (please tell me your fabric talks to you too!).
To start, I traced one size larger than my usual size, and angled the inner leg seams on the front and back out a bit at the bottom to add extra thigh room and comfort. This was small- only about 3/8″.
I also cut the shorts 1.5″ above the shorts line on the pattern, since I like my shorts pretty short! Keep in mind, my fabric had some stretch. If your fabric doesn't stretch at all, you may want to go up 2 sizes.
After tracing the pattern, I took a good look at my favorite jean shorts- noticing where and how they were topstitched and sewn. I noticed two main things that gave them their signature "jeans" look: pockets and topstitching. The topstitching is usually done with special "jeans" thread, which is very thick. Since this material was lighter than the typical denim, I didn't want to use such thick thread, and settled on using a triple stretch stitch and a shimmery denim colored thread instead.
As far as pockets go, nearly all jeans have front slanted/scoop pockets, and back patch pockets (some even have a small "coin" pocket). The Brassies already had the front scoop pockets, and the way they are sewn down in front allowed me to highlight the shorts with extra topstitching. What they lacked, however, was back pockets. I don't know about you, but I love me some back pockets.  They are perfect for stashing my cell phone, credit cards, car keys, pretty much everything that will fit! When they're missing, I keep reaching for my phantom back pockets and get frustrated that they aren't there!
To fix this, I dove into my pattern stash and pulled out Jalie 2908 (stretch jeans). I traced the back pocket pattern piece, and folded/stitched according to their instructions. I could have put a cool embroidered design on the pocket, but I'm still too intimidated by my embroidery machine to give it a go, so I left them plain, with one line of heavy topstitching across the top fold. If you don't own that pattern, or any patterns with a back patch pocket, you can easily draft your own. Just make sure to leave enough around the edges of your pocket so that its the right size when the edges are turned down.
Before constructing the pants, I measured my jean shorts and estimated the placement of the back pockets on my pattern pieces, securing them temporarily with washaway wonder tape. After the shorts were all sewn up, I adjusted the placement slightly and then topstitched them down (don't forget to reinforce the corners and keep the top open!) A seam gauge was very helpful here.
I followed the instructions for constructing the Brassies, except that I took additional steps to topstitch and secure my seams. For example, I added topstitching to the side seam allowance, to created a faux flat felled look. I also double topstitched the front pockets, the waistband, and the crotch seam. As a result, these are quite possibly the sturdiest pair of shorts I own! Make sure you're using an appropriate needle here- I used a universal 80/12 needle. If your denim is quite thick, you might even need a "jeans" needle. My machine struggled when I tried to use a stretch/ballpoint needle or a lighter weight universal needle.
You'll also want to finish any edges that aren't enclosed, as woven materials will fray (unlike knits). I used my serger, but you could use pinking shears or a zigzag stitch instead. In this photo I've serged the front pocket edges.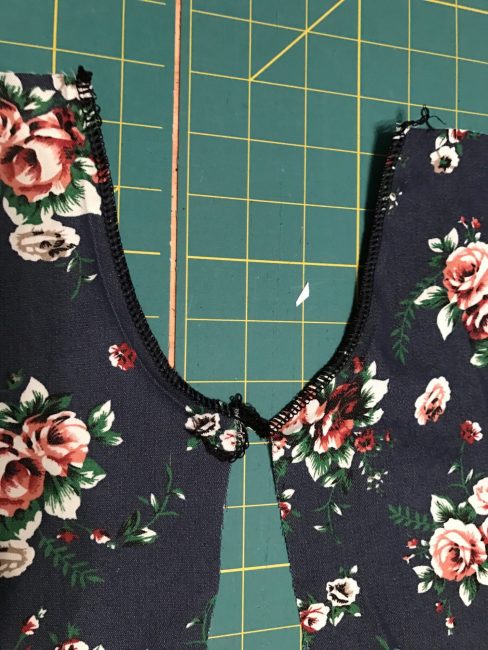 The shorts waistband was cut according to the pattern, from heavy supplex from my stash, in a heathered denim color that worked really well with the floral denim.
I did stitch in the ditch at the side and back seams to keep the elastic from turning in the casing, since I ended up using slightly narrower elastic than called for in the pattern. Grommets were installed using my grommet press, and the drawstring is twill tape. I bought a giant roll of it, thinking I would have way too much, but its really come in handy!
I also did a double turned hem to prevent fraying and give the bottom some extra structure. I folded up 3/4″ and then another 3/4″ and topstitched with two lines of stitching.
And That's it! Denim Brassies for the win!
You can grab your fabric HERE, and the pattern HERE (and psst….I'm doing a sewalong for these pants from 6/12-6/16/17 here– there's a special coupon code for participants if you join the event!)
Don't forget to enter your brassies, if you make them, into the #movinitgreenstyle contest in the Greenstyle Facebook Group for a chance to win a Silhouette Cameo Machine! You should also enter into the #cutsewwearthefab contest at The Fab Clique Fabric Shoppe for a chance to win one of the adorable sewing machine bangles I'm wearing in these photos!
Here are my little photobombers…they were collecting frogs and grasshoppers in the field while we did our photos! Their T shirts are new- I made them as a gift for their last day of Kindergarten from the Made for Mermaids Dylan Tee Pattern (sewn previously here). See how he's holding his pocket full of creatures?
Note: Some of the links in this post are affiliate links ,which means that if you choose to buy the item using the link a small portion of that purchase goes back into my pattern testing/sewing/bloggy habit! Thank you!