Sewing Swimwear: Supplies
Welcome to the first installment in my series on Sewing Swimwear: Supplies!
Before last month, the total amount of swimwear I had sewn myself totaled 1- and that 1 was an ill-fated attempt at a one piece several years ago. That suit literally disintegrated after a few uses, and so I put swimwear on the back burner for a while, lacking confidence in my supplies and tehniques.
My interest in sewing swim resurfaced when 5 out of 4 patterns put out the testing call for the Escapade Swimsuit (see my blog post here), which forced me to overcome my fears and dive right in (literally!).
Emboldened by my success, I sewed up another suit using some gorgeous custom knit (here).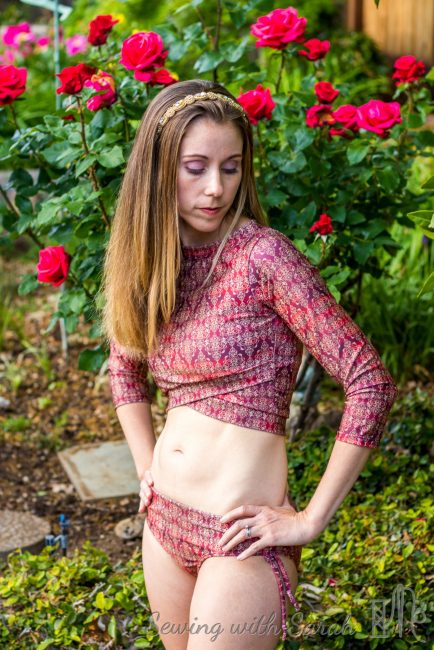 New techniques from new patterns gave me even more courage, and so I signed up to be part of the Suit Up for Summer Blog Tour, during which I completed my 12th piece of swimwear- not bad for a newbie!
While I'm still no expert, I have learned a few things along the way, and I thought it might be helpful to put them into a couple blog posts to share with others.
Today, I'm going to talk about supplies: patterns, fabric and notions.
Patterns
A good swimsuit pattern needs two things: good drafting and clear instructions. While I have some gorgeous swim patterns from companies like SwimStyle, I haven't tackled them yet, because I find the instructions a bit too sparse. That is not what you want for your first attempt at sewing swimwear.
Patterns that I have found success with include:
The Escapade, Agility and X Factor from 5 out of 4 Patterns (blog post here and here for the Escapade, and ON SALE for 50% off with Code MEMDAY17 through 5/29)
The Moxi Shorts from Greenstyle Creations (blog post here)
The Gigi Bikini from Jalie and the Peekaboo Patterns Marilyn Suit (for girls) (blog post here) .
I also own and trust the drafting/instructions of the Peekaboo Swan Lake Suit (for girls- but Peekaboo also has several women's options here)
Several other swim options from Jalie. A word of warning about Jalie's older patterns- they do not have layers like the new pdf patterns do. If you are downloading an older pattern, be prepared to spend a TON of time trying to figure out how to follow the tiny, identical lines. Their older patterns are much better in printed format, or download the newer ones!
The Endurance Bra from Greenstyle Creations is another great option- its designed as a sports bra but would make an excellent swim top with chlorine proof fold over elastic (more on that below).
Modifications: If you're making a pattern that is NOT designed for swimwear into a swim top or bottom (which is totally doable) you may want to consider sizing down, as I did for the Moxi Shorts (here).
You also want to add a lining, if its an briefs or bikini top style. Some people do not line children's swimsuits, but I think its more comfortable to hide those seams which could chafe with all the moving around kids do in water!
Once you start looking around, you'll find there are many options out there for swimsuits- pick one and give it a try!
Fabric
There are many sources for swim fabric and lining. I've purchased quality swim from the following places (not an exhaustive list but it will get you started!):
Supplies/Notions
You'll also need some key notions to get you started.
Elastic is a key component in any swimsuit! There is some debate about whether clear elastic will stand up to chlorine as well as cotton swim elastic but several designers I've worked with have said they make suits from both and haven't had any issues. I recommend the cotton swim elastic, simply because its easier to manipulate and doesn't stick to your presser foot! You can purchase it at Joanns Fabrics, Sew Sassy, or on Amazon here.
Most swim patterns need either 1/4″ or 3/8″, but some also call for 3/4″. If you're using fold over elastic (like for the Moxi shorts or Endurance Bra) you can get that at Diaper Sewing Supply here.
Swim hooks: I recommend the metal kind. Amazon carries them here, as does Joanns and Sew Sassy. The Jalie Pattern used the 3/4″, but check your pattern for the correct size before buying.
Washaway Wonder Tape: Swim can be slippery stuff, and wonder tape is a sanity-saver when starting seams, or topstitching straps. It sticks to your fabric, and holds things in place while you sew, then washes away!
Clips/Pins: Be careful about using clips in swim fabric- they tend to leave dents if left for a while (ask me how I know). As a result, I prefer fine pins (on amazon here).
A word about Machines: Swimwear is awesome in that it can be constructed just as easily on a sewing machine as on a serger or coverstitch. If you don't own the latter, don't worry- the fact that most seams are lined means you won't be able to tell the difference at all, and I often find my sewing machine easier to use and control with swim for tricky parts anyway. However, having a serger/coverstitch will speed up the process. If you DO have one or both of those machines, make sure to use Maxi Lock Stretch (I buy mine from amazon here, because I buy everything from Amazon, but Wawak also carries it here) in your loopers- it makes a world of difference!
if you're curious, I own the brother 1034D serger, which I purchased from Amazon here (two of them actually) and this Janome 1000 CPX coverstitch.
Well, that's it! I hope this has been helpful- grab yourself some supplies and get sewing!
Note: this post contains affiliate links. I hope they help you navigate to what you need- they are all things I use all the time and honestly recommend to you.