Tutorial: Gathered Back Lago Tank
The whole time I was testing the Lago tank (here), I knew I wanted to hack it, and had a specific style I wanted to recreate based off a favorite ready to wear top that has a knit front and back yoke with a gathered woven lower back. While testing isn't the best time for hacking, as a designer usually wants to see how the pattern fits as drafted, I put the hack in the back of my mind, hoping to find time to see it to fruition.
When Sharon of K's Closet sent off another round of strike offs in a lovely, light weight cotton lycra base, my plans for a hacked Lago tank rose to the top of my sewing list. I chose the floral Adelaide print to sew, and was amazed by how silky the new cotton lycra base is- cotton lycra isn't usually known for its drape, but this stuff is just lovely to sew and wear.
Not one to shy away from a challenge, I decided to pair this print with a fabric I had never sewn with before: silk. Back when I was a newbie seamstress (seems like just yesterday!), I was caught up in the idea of re-creating all my favorite silk tops from stores like Banana Republic, and bought a few cuts of high quality silk from Stone mountain and Daughter Fabrics.
However, as I began to learn a bit more about sewing, I kept reading about how difficult silk is to work with- and promptly scared myself right out of using them. For FOUR YEARS. These gorgeous cuts of fabric have been sitting on my shelf for four years people. I decided it was high time that I cut into these beauties- even if it was a disaster, at least I would have learned something, right?
Fortunately, sewing with silk wasn't all that hard after all- sure, you need the right needles (I used these), the right iron temperature (silk setting), some nice silk pins, and a little patience, but it's really not as terrible as I was expecting! Certainly no more challenging than sewing with swim, or a thin rayon spandex (now THAT can make you want to tear your hair out!). And I'm quite pleased with the result of my efforts- a beautiful, flowy tank that breathes better than anything synthetic, and feels like heaven against my skin.
If you'd like to create your own gathered back Lago tank, I've put together a short tutorial for you. To start, you'll need your Lago Tank pattern (free from Itch to Stitch here), a ruler, some tracing paper and a pencil.
Step 1: Grab the BACK of your Lago Tank piece, and make a horizontal line where you'd like the upper and lower back to meet. This was 4″ down the fold line for me.
Step 2: Trace your new upper and lower back pieces, adding seam allowance to the top of the lower back and the bottom of the upper back. I decided to also draw in a slight curve to my back hem while I was at it!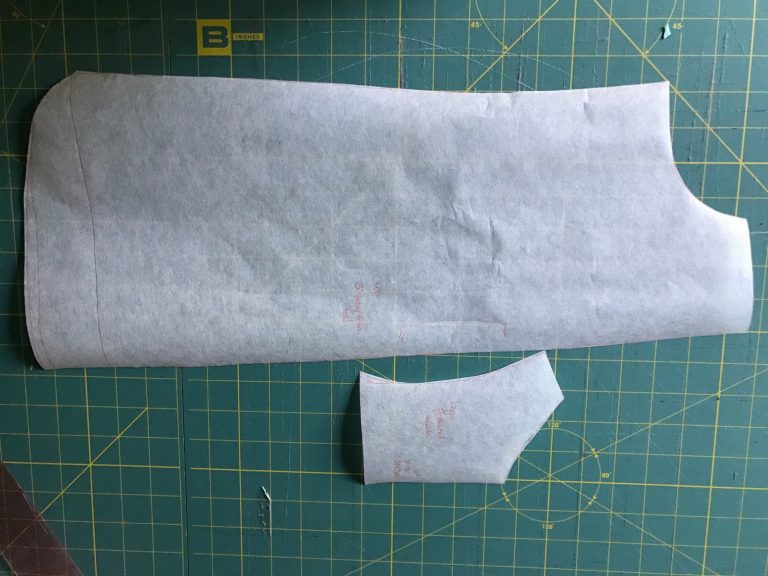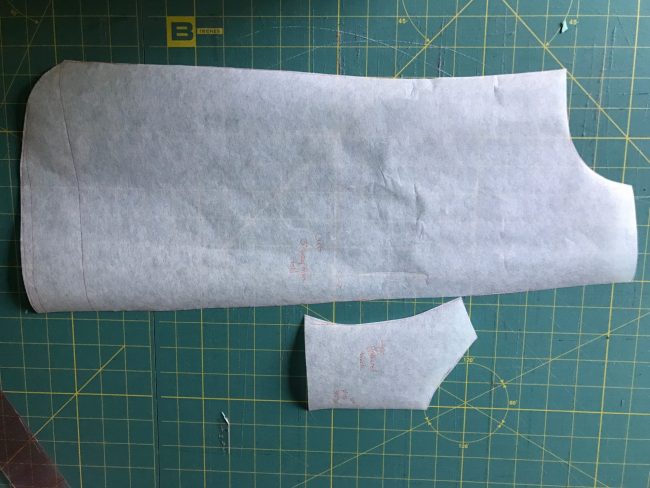 Step 3: Cut your lower back piece, a couple inches away from the fold. This will give you fullness and room for your gathers. The farther away from the fold you cut it, the more fullness and gathers. Cut your upper back piece too, and your other pieces (bands and front) per the pattern.
Step 4: Run two basting stitches across the lower back to gather it. Remember to use microtex or sharp needles made for lightweight wovens if working with silk.
Step 5: Attach your upper and lower back together, being careful to keep the gathers even. I sewed and then finished with my serger. Press the seam allowance up.
Step 6: Continue to assemble your top as directed. I was careful not to stretch the bands too much over the silk portion of the top, but I did topstitch the seam allowance down. I also noticed that my cover stitch machine did not get along with the silk. Better to do a double turned baby hem or a rolled hem instead! Admire your creation!
Don't forget that you can pre-order this fabric, and other gorgeous prints on a variety of bases at K's Closet Hillsborough through 6/10/17!
And because she's such an integral part of our lives, here's a little photobomber, kickin back in her stroller with some cheerios.
Note: some of the links in this post are affiliate links, which means that if you choose to purchase a product using the link a small portion of that gets recycled into paying cheerios to keep the Princess busy while we take photos. Thank you for your support!