A Hey June Willamette for Spring!
I've been sewing knits nonstop for what seems like forever, so when I stumbled across the "sew a collar" challenge in the 52 weeks of sewing group a couple weeks ago, I thought it was high time to break off my love affair with knits for a minute, and try out a new (to me) woven garment.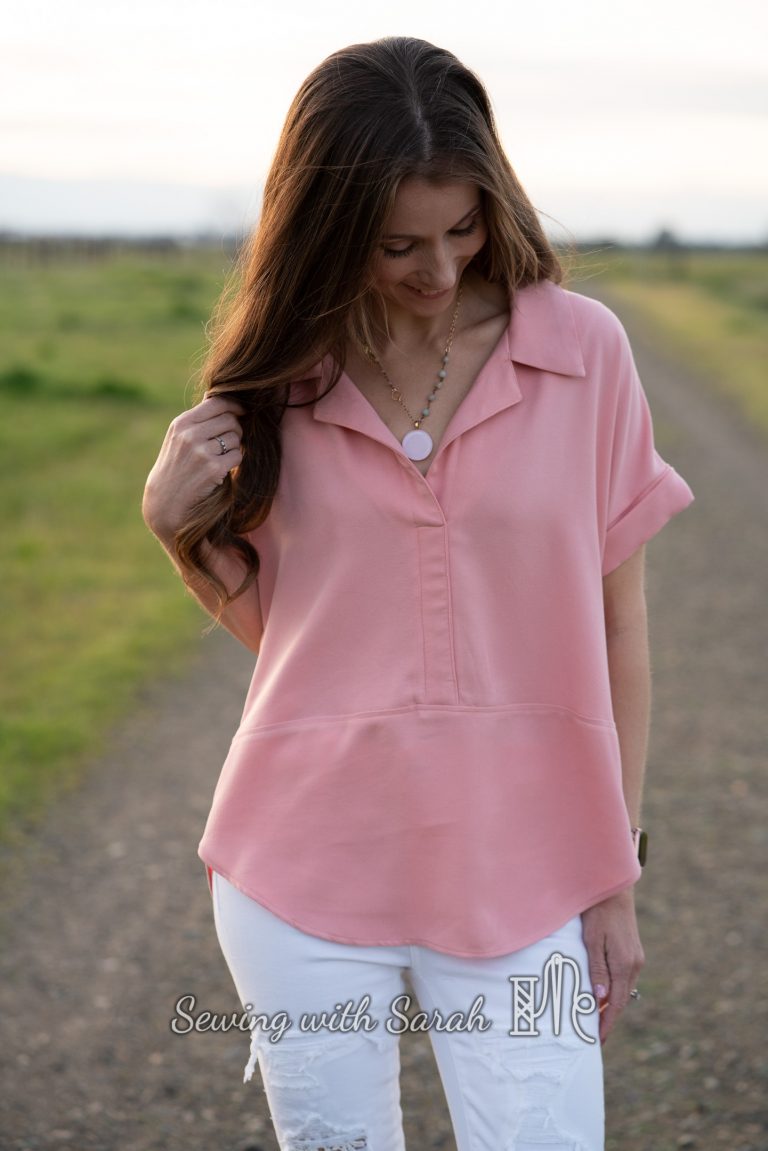 It's been literally ages since I sewed anything with a collar, so I thought I'd start off conservatively- the collar on the Willamette is a casual fold-over style, and doesn't demand quite as much precision as a full shirt collar with a stand, under collar and about a billion other small pieces that need to go together just so.
Okay, I'm exaggerating a bit here for effect, but in all honesty, the full shirt collar on a top like the Cheyenne does intimidate me a tiny bit, and this seemed like a more reachable feat, especially since I had only 24 hours to sew and post my top to be entered into the challenge.
Fortunately, those 24 hours were largely kid free (thanks honey!), so I was able to grab my wine, my bowl of ice cream and my pattern, and get crackin' right away. To be honestly, I'm totally amazed that I managed to sew and photograph this top in such a small amount of time, considering a pair of leggings can sometimes take days- all I can say is the sewing gods must have been smiling down on me, because this little number came together right quick.
The Willamette has been in my pattern queue for about 2 years, and the fabric for this ( a lovely tencel twill) has been there for over a year, so I think this top can also check off boxes from the #sewthatpatternnow and the #sewyourstash challenge as well (how many challenges can I fit into one post?! It make the type A person in me soooo happy!).
This was my first time working with tencel twill, and I was a bit nervous about using it. It's got a drape and shiftiness that's not dissimilar to rayon challis, but the extra heft made it easier to manipulate, and the solid color meant I didn't have to worry about pattern matching.
This particular cut of fabric actually was given to me by LaMercerie and Gabriella of Chalk and Notch when I won the Joy Jacket giveaway on Instagram a while back, and I just didn't get to sewing my Joy before the season changed. I think a Joy would be a beautiful thing to sew for spring, but the lovely coral color practically jumped off my shelf for the Willamette (for once I actually like the Pantone Color of the Year) and I thought it was better to use it up on something now, instead of waiting for another kid free opportunity to dive into a complicated project.
I hope Gabriella can forgive me- I promise I'll make the Joy soon! In fact, I'm currently drooling over this slub linen blend in Caramel from La Mercerie…
In an abundance of caution, I left off the front pockets- they're a cute feature, but I worried I wouldn't be able to get a nice crisp corner in my shifty fabric, and I think the top still looks lovely without them. I also left off the front button, despite lots of votes on Instagram to put one on. I'm still nursing, so the easy access is appreciated, and if I flash someone, it certainly won't be the first time my boobs have made their public debut.
I made zero adjustments to the sizing, and it came out as the perfect "oversized" shirt to wear with a pair of skinny jeans– totally my jam right now. As always, the Hey June instructions made the process painless- I couldn't exactly picture how that yoke burrito was going to come out, but I took a leap of faith and ended up with a lovely finish inside.
The only thing I don't love about this top is the fact that the facing is slightly visible from the outside, but I don't think that could have been avoided in this fabric.
I'm trying to overlook this "flaw" and just enjoy the shirt as is, but if you have any tips for next time, I'm all ears!
That gorgeous curved hem and cuffed sleeve are another few of my favorite details and if you haven't made it yet, I found that serging the curve on the hem was just enough to create a little tension and make the it easy to fold and iron.
You don't see the serging, so it doesn't ruin the beautiful finish, but it saves time with basting along that edge.
Sewing this shirt has reminded me how much I love sewing with wovens, and now I've put a few more woven patterns (and plans for a hacked "Frillamette"- Fringe/Willamette combo) on my list. I'd love to hear about your favorites- drop me a comment below, or find me on Instagram and share with me there.
If you're new to sewing wovens, you also might want to check out my Wovens 101 post HERE on the blog- lots of great tips for cutting and sewing woven fabrics!
Note: This post contains affiliate links. Thank you for your support!