The Bianca Pullover, a Micro-Capsule, and Arizona Adventures
What is a "Micro Wardrobe" Anyway?
As humans, whenever we have space, we tend to try to fill it- both emotionally and physically. Did you ever notice how hard it is to have silence in a conversation? Leaving open "space" is actually a crucial part of connecting with someone (and oneself), but its HARD. I've often felt like the best friends are the ones that I don't have to talk to constantly- the ones who just listen, and who can sit with me in the spaces between.
The same goes for physical "stuff"- when we moved into a 2400 square foot house 5 years ago, we felt like we had SO MUCH ROOM- empty cabinets, furniture that seemed too small, not enough art/photos to fill the walls (and not enough fabric to fill the shelves!). A year and an additional kid later, and we were already feeling cramped- somehow we had just expanded to fill the openness, and were overwhelmed by all the "stuff" we now had to manage, as well as the additional upkeep of managing a larger household.
Since we have transitioned into 400 square feet, the tendency to fill our space hasn't gone away, but we have gained a new motivation to regularly evaluate what we NEED, and to let the rest go. All of my clothes, underthings, jackets, etc have to fit into 3 small drawers and 6 hangers, and I try to critically evaluate what gets worn the most, or what "off the rack" items I could replace with self-sewn (a fully me-made wardrobe seems much more achievable these days!).
One thing I felt was missing lately was a heavyweight pullover without a hood, so that I could wear it to campfires in the cooler nights we have been having lately as we leave Arizona. I chose the Bianca pullover from Greenstyle Creations because the test came up just as I realized what I needed. The Bianca offers a hooded, crew or funnel neck option, dolman sleeves, a wide, boxy shape, and big pockets (that can be zippered or finished with binding).
Since shipping fabric is a bit of an issue when we don't have a stable address, I ventured into a JoAnns in Phoenix to see what I could find. I was surprised that they didn't have ANY french terry available- I had initially planned on a really basic heathered grey version, but came home with some of their "luxe" fleece in a deep teal. Fortunately there are no matching police in the campground, but I like to have colors that coordinate, and many of my leggings have some form of aqua or blue in them, so it felt like a good addition to my travel capsule.
The project came together quite well- I went with the hip length and wide band, and just happened to have some perfectly matching drawcord (shoelace strings) for my funnel. This is a narrower opening, and my head gets a bit squeezed when I pull it over. I haven't decided on whether or not I would want to widen it if I made another, though, because I like the close fit around the neck for keeping out the wind.
I finished the curved pocket openings (which hold my phone quite securely) with matching fold over elastic from the Fabric Fairy, and reverse coverstitched every seam.
Some parts of this were really thick going through my serger/coverstitch machine, but my new Juki serger performed really well, and my babylock coverstitch hasn't let me down yet!
I ended up with a pullover I love, and thoughts about using a lighter weight athletic brushed poly for those days that have just a little chill, but don't really need a jacket.
A quick note about the leggings- these are a pair of Inspire Tights (SewAlong here) with the no-side seam hack and the back zipper pocket hack (tutorial HERE) in fabric from Sew Dynamic Fabrics. I love this print, and I was really missing the forest (so. many. cacti) so I whipped these up. I am a little disappointed with my pattern placement (pine tree in my nether regions…) but I'll wear them and dream of our summer spent in the forest!
If you're curious about our travel as well, we have been puttering around Arizona for the past month. We thought seriously about going into Baja, but decided this just wasn't the right timing, so we enjoyed exploring Lake Havasu, Phoenix, Yuma, and Tucson.
Lake Havasu/Earp
Some of our favorite activities included paddleboarding the Colorado River in Earp/Parker:
Hiking SARAs Crack in Havasu (yes, I see the humor in this one)
Learning to Ice Skate in Havasu (guess who fell the hardest….hint: It wasn't one of the kids, and my ass was sore for dayyysss)
Winning at bowling (these kids got so many strikes!)
And hiking the Rovys Needle Hike (which had a cool journal at the top, where you could write your new year's resolutions)
Phoenix, Arizona
After Havasu, we joined back up with some friends in Phoenix, and kept right on exploring!
We hiked the Hole in the Rock in Phoenix, and the "Fat Man's Pass" hike in Mesa:
This was a really narrow opening!
We also visited the Science center using the ASTC Reciprocal Admission program, learning how solar panels worked (appropriate since we were installing our own there!)
Yuma, Arizona
From Phoenix, we went onto Yuma, to celebrate two family birthdays, and continue our fun.
In Yuma we visited the Yuma Territorial Prison and walked along the river (they also have a pretty awesome creative playground there!). I forgot my phone while we were walking around the prison, but the most captivating thing we learned was that a female inmate had a baby while there, and he continued to live with her for two years until she was pardoned because they didn't want the child to grow up like that, and in those days it was considered "barbaric" to separate mom and baby. Sophia was obsessed with this story!
We also crossed into Los Algodones for some fresh Churros (and turned down LOTS of offers for dental work, apparently its their specialty there):
We celebrated Sophia's 5th Birthday in Yuma as well…surrounded by friends and a unicorn pinata (of course!)
Tucson, Arizona
Yuma was fun, but very flat, and by the time we got to Tucson I was glad to see some grenery and some mountains! We boondocked just outside Saguaro National Park, and enjoyed exploring and earning our junior ranger badges with some fulltime friends.
The kids enjoyed living without all hte campground "rules" (many of the places we stayed in in Arizona were age qualified, so we had to be "calm" since we were underage visitors). They spent most of their free "play time" digging holes with shovels- further proof that kids don't need a room full of toys to be entertained!
This was our first time being off grid for more than a day or two, and we plan on doing alot more of it in the future.
We also did a tour of Colossal Cave in Tucson, which was really cool, and a great opportunity to learn some geology. There was a family of Coatis that live in the cave, and we got to see them multiple times during our tour!
Another educational and captivating activity was visiting the Arizona Sonora Desert Zoo/Museum, where we spent quite a bit of time checking out the desert animals, learning about the surrounding ecosystem, and even mined for some crystals in their "mine".
Howling with the coyotes at the Desert Museum: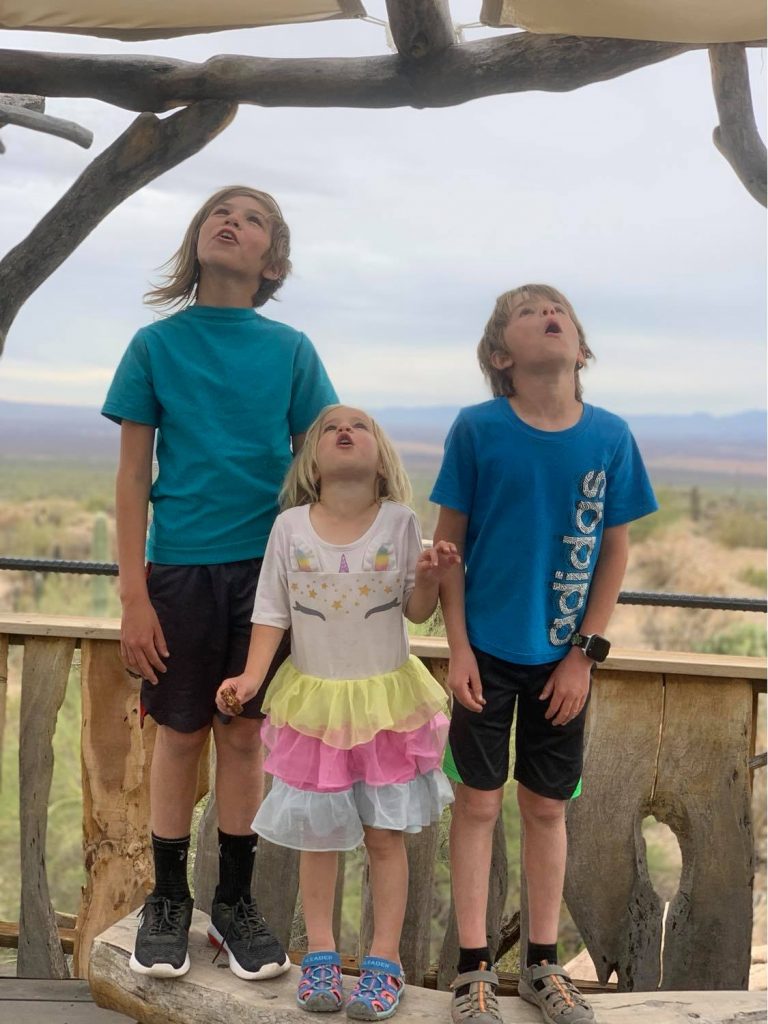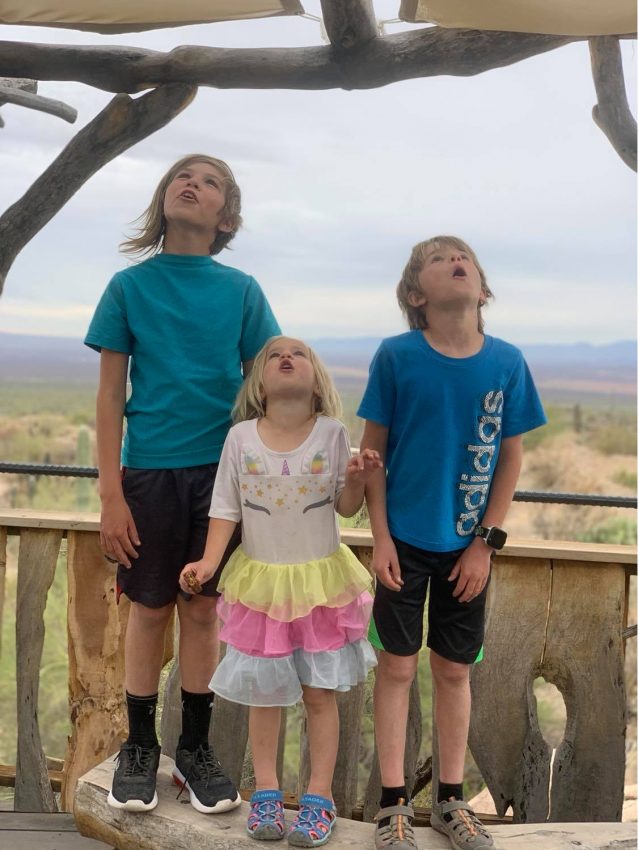 I think this one understood what they were saying!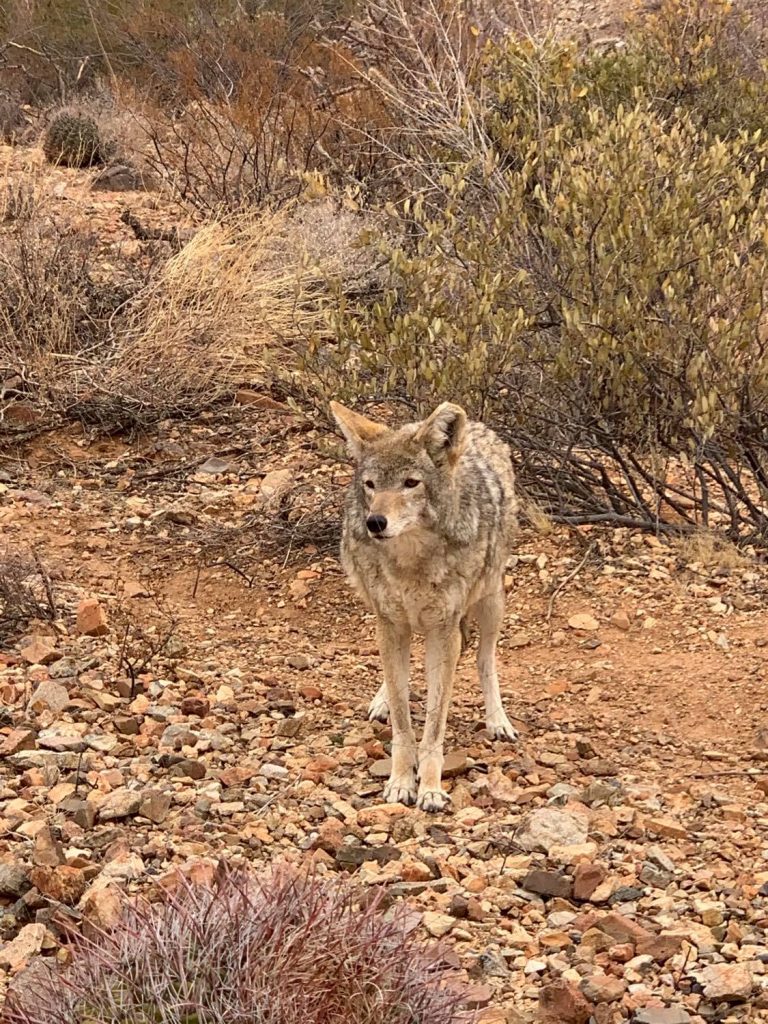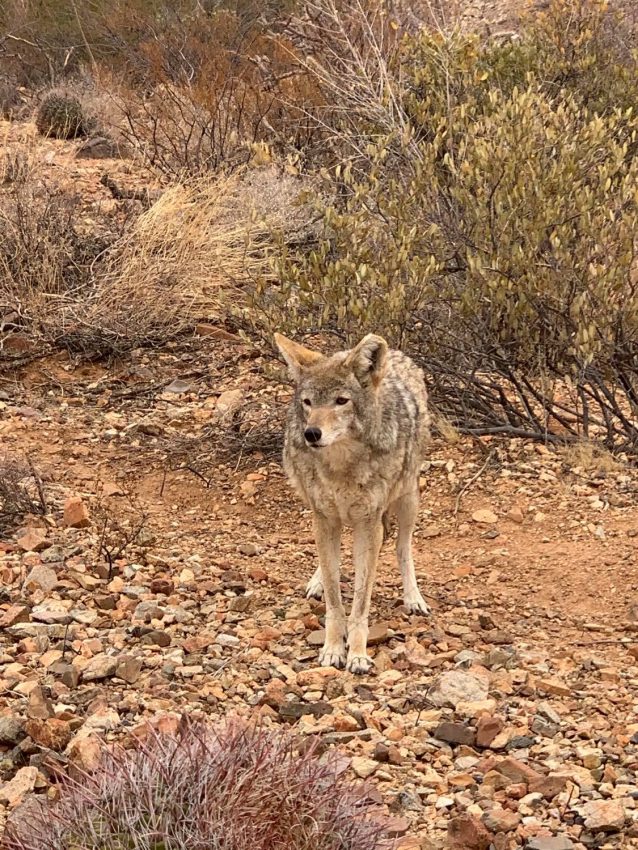 So many fun things to "spy" in the desert!
Tucson was our last stop in Arizona, before we headed off toward our next destination…Texas! I'll have to sew something while we are there, so I can tell you more about our adventures!