Twirlin' in Red White and Blue Sparkles!!!
Hello friends! I have something really fun to share with you today! My first strike offs!
I hinted at it in my last post, and here they are! In case you're unfamiliar with what a strike-off is, they are essentially samples of fabrics that will be run as a pre-order. To help customers to get a virtual "feel" for the fabrics on offer and to offer inspiration, a group of ladies are chosen to sew them up and promote them online. I've always wanted to participate, and I was thrilled when I was chosen to do this for one of my favorite fabric companies, Pink Zeppelin Fabrics. (I used their sparkles for the Patterns for Pirates Heartbreaker Crop top and Made for Mermaids Bonny shorties featured on my blog here). If you aren't familiar with Pink Zeppelin, you HAVE to check them out- they have the most awesome fabrics that are digitally printed to look like glitter, but without the mess or scratchy feeling, among a variety of other awesome prints. So cool- but here's the catch: everything must be sewn up ASAP so customers have time to order before the round closes.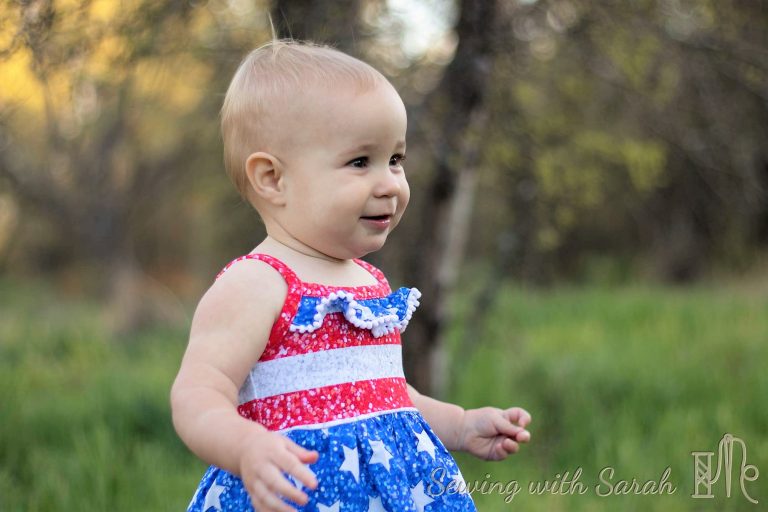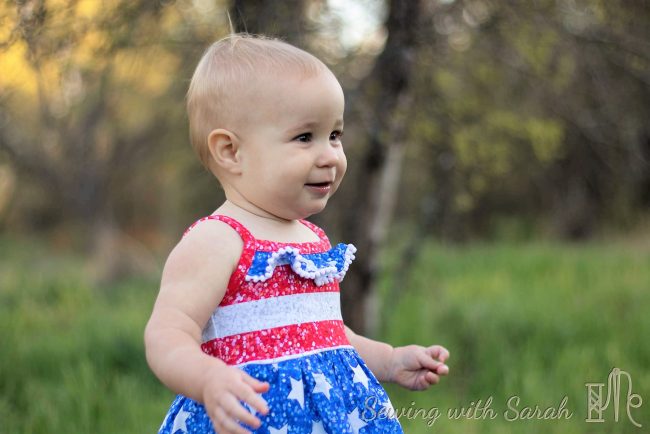 In exchange for some lightening fast sewing, Yvi sent me a half yard of woven sparkle stars, and a half yard of cotton-lycra sparkle stripes to work with. These fabrics are so beautiful, and really do seem to sparkle in the sunlight! I started out with the Simple Life Patterns Co Missy Tank Dress, using woven fabric for the skirt and cotton lycra stripes for the bodice and straps.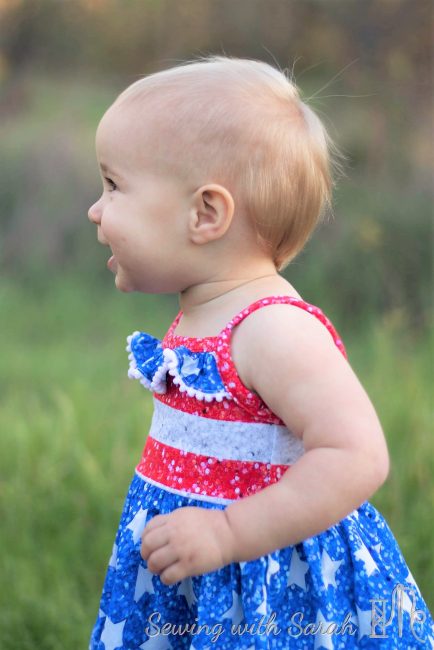 I added a bodice ruffle from the sparkle stars, and trimmed it with mini pom-poms (because who can resist those?!) I finished off the hem with some more of the chiffon pleated trim I used for my Waterfall Raglan top, but this time in white. The fit was perfection, and Sophia looks so adorable in the dress! It was a bit chilly when we took these photos, so she is wearing leggings, but she was a trooper and loved exploring the trails in the park. I do recommend if you're making this pattern, to follow the suggestion to add clear elastic in the seam between the bodice and skirt if you're making the skirt in a woven. This really helps it get on and off without breaking stitches, and is especially needed since Sophia wears cloth diapers and her bum might be a little "fluffier" than most.
Of course, I couldn't let even a scrap of this gorgeous fabric go to waste, so I whipped up another couple items with what I had left.
This top is a Brindille and Twig Flutter Sleeve Tee, and instead of using a knit for the ruffles, I used the woven sparkle stars- I love how the stiffer woven fabric makes them stand up and out! I used my serger to do a rolled hem on the ruffles (a new technique for me, and such a timesaver!) and was much easier than a traditional hem. The front of the top is the same cotton lycra stripes as the bodice of the Missy dress, and the back and sleeves were coordinating fabrics I had in my stash. I tried every trick in the book to get her to hold the flag in these photos, but she was intent on exploring the park, so I gave up and hung it in the background. We had a great time, even if the way back was harder than expected because I was trying to run uphill into the wind- with the flag whipping around on the stroller we sure were patriotic!
Finally, I used what was leftover from the first two items to make another Simple Life pattern- the Lucy Dress with the knit add-on. I love the racerback look and the lined bodice- it makes for a really clean finish. The last little bits of my woven stars were used for the pockets on the circle skirt (which is actually from the SLPco Isla pattern, since I wanted this dress to have a little bit of extra spin for my little girl who loves to twirl!)
I trimmed the pockets with some star buttons I found at JoAnns, and added eyelet lace at the top for a touch of sweetness. In these photos, she's learning how to blow on her pinwheel and clapping for her success- it was so adorable! It's these moments that keep you going as a parent when she's kept you up all night teething, you know?
I love how all three of these turned out, and though it was a whirlwind of sewing (you should have seen my sewing room- yikes!) it was all worth it to see the Princess in her new outfits, feeling the patriotic love! Want some of your own #RedWhiteandPZSparkles? Pink Zeppelin Fabrics also has many other prints and panels available on a variety of bases, including brushed poly, swim, PUL, french terry and more! Head on over there and check it out before the pre-order clsoes 4/10 (use codes FATHALF and LAYAWAY for those options). Order at Pinkzeppelinpreorders.bigcartel.com. You can also find tons more inspiration from the other amazing strike-off seamstresses and links to order in their Facebook group here. Happy Shopping!