GreenStyle Midway Bomber Jacket
Floral jackets have been EVERYWHERE this season, and I've been dying for one of my own. Self made, of course, so it won't fall apart at the seams after a few washes (Target jacket, I'm looking at you!). But, I've been too scared to dive in and make one on my own without some serious support. I even joined an online sewalong group for a "big 4" bomber jacket pattern, trying to psych myself up for it, but I chickened out after reading reviews that pointed to excessive ease and mediocre instructions/finish (fairly typical of the "big 4" and one of the reasons why I have a strong preference for smaller pattern designers who have a real connection to their groups.)
So, when the lovely and talented Angelyn of Greenstyle Creations hinted that she would be coming out with a pattern for a bomber jacket soon, I did a happy dance and parked myself on their wall waiting for the tester call. If there was any time to get over my fears and come out victorious, it was now! I know Angelyn's directions are always clear, and her drafting and fit are top notch, so I trusted that with her help, the perfect bomber jacket (or two) would find a welcome home in my closet.
And they did! The Midway Bomber Jacket is the perfect layer to get you through the seasons, especially right now, as the weather in my neck of the woods boomerangs between freezing and flip flops every 24 hours. With a two piece sleeve for a great fit at the shoulder, options for a full (or no) lining, and welt side pockets, the Midway can become anything from a sporty tennis jacket to a date night worthy topper, depending on your fabric choices. Speaking of fabric, this was my first time working with both Liverpool and scuba, and I'm pleasantly surprised by both. The testers' versions really show the diversity of what can work here- so I encourage you to think outside the box about what your perfect jacket is, and go for it! There are even videos for the zipper and welt pockets, that make both really easy (this was my first time doing welts, and while I advise some practice on scraps first, the video makes it a breeze).
I made two Midways during testing, and would have made a third had my supplies not gone MIA with the postal service somewhere between New York and California. For my first jacket, I already had the perfect fabric waiting in the wings- a royal blue and white floral mystery scuba/ponte-ish blend from a Knitpop scrappack I purchased a few months back. The moment I laid eyes on this fabric, I knew I wanted to use it for something really special, but I wasn't sure exactly what that would be, given the obvious options for a heavier knit like this, such as a pencil skirt, don't fit well into my #momlife. But I'm so glad I saved it- because it made the perfect fabric for this project!
I had to cut carefully to avoid some stains/flaws that were present on the fabric and avoid a giant flower on my chest,  but I was able to eke out a full jacket with only scraps to spare out of a yard and a half (sometimes being the smallest size pays off!). For the lining, I used a royal blue matte stretch charmeuse from JoAnns- this has less stretch than the pattern recommends, so I sewed it with a slightly smaller seam allowance. It worked out OK, but I would really recommend sticking to the pattern's guidelines on the lining. The ribbing was from Mood Fabrics and turned out to be the perfect color (it's always a little dicey ordering fabrics to match online!). The zipper was from JoAnns as well.
I shortened the body of this one 1 inch and the sleeves 3 inches. The length is perfect on me, and hits at high hip, but the sleeves are just the slightest bit short, so I only took 2 inches out of the sleeves from my next version (for reference, I'm 5'2″).
I felt like a rockstar after I was able to sew in the zip and the lining, though I skipped the "stitch in the ditch" step at the waistband, because I can never get mine to look invisible. I'm very happy with how it looks and feels on, with one tiny exception that no one would ever notice (but that I'm sure will irritate me FOREVER): my yellow chalk didn't come all the way out of the front pocket area. Why do I admit this? So you, my reader will remember to FOLLOW THE DIRECTIONS and mark on the wrong side of your fabric. Lesson learned.
On to version 2: This one was made out of a show-stopping Liverpool floral from Pretty Posh Prints. I'm new to this group, but she has the most gorgeous Liverpool florals and solids, among other things. While I was on vacation in Santa Cruz waiting for the test to be posted, Pretty Posh Prints had a "fastest fingers" sale, and I was lucky enough to snap some up in between relaxing on the sand and touring the Monterey Bay Aquarium. When I was chosen for the test, I got nervous that my fabric might not be here in time, so I messaged the owner, Brenda. She was SO NICE, shipping my fabric on her day off so it would arrive on time- so go on over and check them out!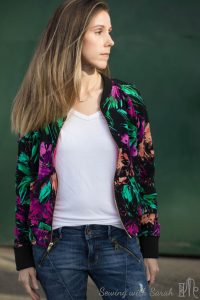 It was the perfect match for this pattern, and I'm thrilled with how it came out. The lining is from So Sew English, and is a lightweight performance knit. Although it wasn't listed in the pattern recommendations, I love using performance for the lining, because its silky enough to let my arms slide in easily and wicks sweat! Seriously, I don't know what it is about Bomber Jackets, but they make you feel so cool. Since I'm usually covered in something my kids have eaten or digested, something that makes me feel great is very welcome!
The trim on this one is from Pacific Trimming, and the zipper is from JoAnns (again- whomp whomp!).
Really, I'm blown away by both of these jackets, and I can hardly believe I made them! Not to sound too full of myself, but I'm really proud that I overcame my fears to create something I know will get a ton of wear, and I have some more floral Liverpool and some black mesh and scuba for my third and fourth versions to come.
You know you want one- so hurry on over and grab yourself a copy (on sale for 24 hours but WELL worth the full price, in my opinion!) and some fabric and start sewing!