Ahh…waterfalls.
When I'm stressed out (so much fabric, so little time!) I like to close my eyes and imagine myself by a forest stream at dusk, listening to the water cascade over the rocks as it flows toward a magnificent waterfall that can be heard rushing in the distance.
Just close your eyes and picture it.
Mmm…feeling better now? You can open your eyes- and check out what I made- The Waterfall Raglan by Chalk and Notch!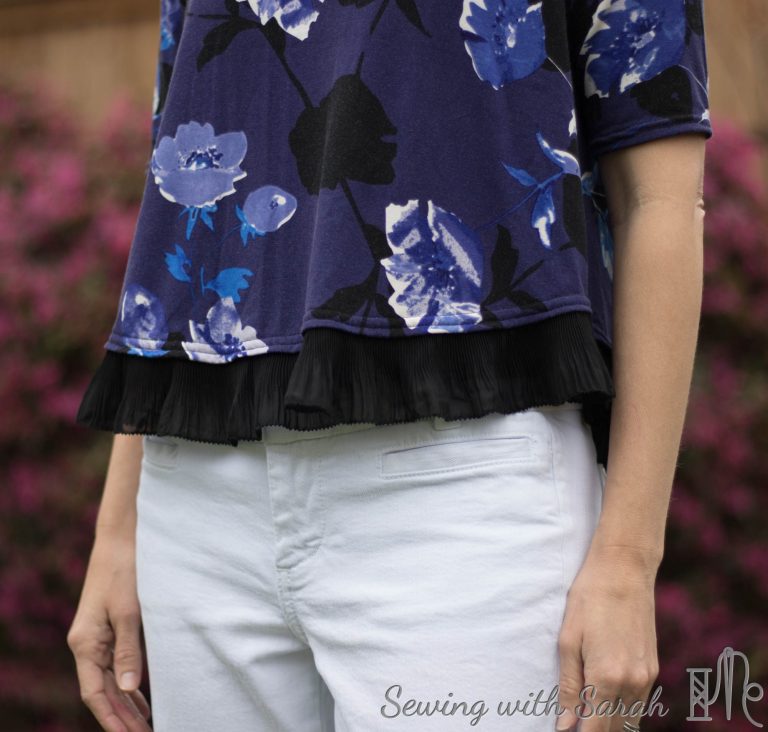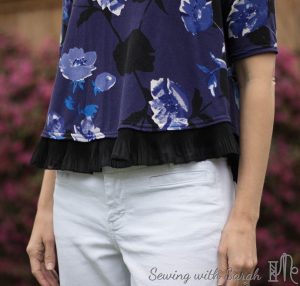 This was not a pattern test, but rather a style I've been crushing on since Chalk and Notch released the children's version of the pattern last year. I was hoping (ok, begging) she would create a women's version, and a few months ago, she did just that. I snapped up a copy right away and ran into my sewing room to browse through my (not inconsiderable) stash to find the best match. This gorgeous heavy rayon spandex from Love Adore was the clear winner, whispering of sultry summer nights, and evening strolls through the garden.
But, there was a catch: I only had 1 yard, and the waterfall raglan required much more than that. Even with elbow length sleeves and shortening the bodice by 1 inch to account for my height, there still wasn't enough room for the gathered ruffle that is the signature piece on this style. So, I put the pattern aside and waited for inspiration to strike. And, fortunately, it did, during the "Waterfall Raglan: Make it Mine" blog tour.
Sew Marie Fleur posted a version of the waterfall raglan in which she used a lacey trim in lieu of the ruffle, creating a cute swingy spring top. I decided that my fabric would look perfect with black pleated chiffon trim, so I went off to my local fabric store to pick some up. Unfortunately, the only chiffon trim they had was poor quality and had frequent seams from piecing it together. I couldn't do that to my beautiful yard of fabric , so I searched online, and finally found the perfect trim- from CHINA.
After two weeks of (not so patient) waiting, I finally had my trim, and was able to sew up my top. Construction wise, this was a pretty easy sew, and it was made quicker by not having to gather the ruffle. I cut the trim the same length as the bottom of the top, and attached the trim behind the top by using my coverstitch to hem the fabric and attach the ruffle at the same time. The result is a top I love that took less time to make than it takes to bake a batch of cookies- WINNING!
It hits right at the top of my jeans, and has the PERFECT amount of swing- and I just love how the sides come up a tiny bit. The neckline is higher than I expected, and I may lower it next time for easier nursing access. However, I think the higher neck goes well with the elbow length sleeves and cropped nature of the top, so I'm quite pleased with it overall. The fabric was a dream to sew; the heavy weight of the fabric prevented much of the shiftiness and curling that usually makes RS a PITA to sew while still lending a good amount of stretch. I would LOVE to find some more of this fabric someday- let me know if you see some (I'll understand if you grab a few yards for yourself first!)
So, what do you think? Have you sewn this pattern up yet? I also ordered some white chiffon and lace trim at the same time (because, shipping from China!), and I have a few more of these tops that I'll be whipping up in time for warmer weather.
I also have some fun pattern tests and strike-off coming up soon to share!
Happy Sewing!