My First Capsule Wardrobe!
I've been meaning to do a capsule wardrobe for a long time. But, I mean to do a lot of things, 90% of which never make it to fruition.
Call it sewist ADD- as soon as I have an idea, another one jumps in front of it, and then another, and I can never be sure exactly which one will win until I'm at my cutting table putting my rotary cutter to the fabric. Because this is my hobby, and not my job, I can afford this level of disorganization and lack of commitment, but every once in a while, it's fun to dive in with, you know, an actual plan.
When a recent box of fabrics arrived from Sly Fox, I noticed that I had unintentionally ordered a color palette of sorts-with plums, forest greens, greys, and maroons taking center stage. I decided that instead of making a variety of one-off pieces, I had to integrate them somehow, and the idea of my first real capsule was born. I have to give a little nod here to my virtual friend Mac, of Harper and Lu, for turning me onto the idea of Capsule Wardrobe's in the first place! Thanks Mac!)
For reference. these are the fabrics I chose:
Brushed Hacci SweaterKnit "Eclipse"        Brushed Jersey in "Maroon"
Brushed Hacci "Olive Burnt"                             Brushed Jersey "Charcoal"
I started out with the Cocoon Cardigan from Patterns for Pirates. I"ve owned this pattern for quite a while, but haven't made it up because I didn't love the idea of the large dolman sleeves, which typically look kind of ridiculous on me, given my petite frame (no offense to anyone who's made it- I just prefer a closer fit underarm). The recent "hacks week" at So So English gave me a good excuse and a little help to mash it with the Women's Henley pattern, for a "set in" sleeve look, and the floral hacci was just the right weight and texture for a fall layer.
This hacci knit is more structured than some other hacci I've worked with, which made it more stable and easy to manipulate. I chose the large patch pockets, extra-long sleeve cuffs, and cut my bands at 10 inches wide. I was surprised at how quickly this came together- I think this was one of those patterns that I had trumped up in my head as more work than it was- when I actually started it was done in less than an hour!
With a little over a yard left over and the Lulu Dolman pattern still on my cutting table (see my previous version here), I decided to use the leftover fabric to make myself a long sleeved top. This time I scooped out the neckline a bit more to make it nursing-friendly, and hemmed the front and back before sewing with side seams.
I won't ever wear my Cocoon and Lulu together, but the fabric was too good to go into the scrap bin! The Lulu is the top that changed my mind about (slim fit) dolman sleeves, and I don't think I'll ever be able to get enough of these in my closet, so with another burst of sewing energy, another piece fell into place in my capsule.
Next, I tackled the brushed hacci fabric- this is much more lightweight than the floral, and has significantly more stretch, but the trade-off is a lighter than air knit that's unbelievably soft to the touch. I chose the aptly named "Capsule Cardigan" by Greenstyle Creations, another pattern that's been on my to-do list for ages.
I'm in love with the huge pockets, though the high stretch of this fabric means they droop like crazy if I put something heavy, like my phone in there, but they're perfect for a couple tissues (who else has gotten their first winter cold? boo!) and warming my always-ice-cold hands.
This cardigan is so cozy that I wore it while I made all the other pieces, and pretty much never want to take it off. I made sure to stabilize the shoulder seams with knit stay tape, and dialed the differential feed on my serger way up to compensate for the stretch. I also widened the front band by an inch or two- I was originally planning to add buttons, but decided I liked the open look best (read: quaked in terror at the idea of putting button-holes into sweaterknit). This pattern would also look awesome in a more structured ponte or boucle knit- which I'm totally going to have to try for my next capsule!
At this point, I needed another couple tops to balance out my cardigans, so I turned to two of my TNT (tried and true) patterns: the Lane Raglan and Union Street Tee, both by Hey June Patterns.
The Lane is one of my favorites because of the wide, scooped neckline and the close fit at the bust that flares out a bit at the hem- making it super flattering over my tummy and easy to nurse in.
I had ordered the "brushed jersey" fabric from the Sly Fox website without really knowing what it would be like- but I've found the description "lightweight sweater knit" to be pretty accurate. It has excellent recovery, and is fairly opaque, much like a fall version of rayon spandex. The brushed texture makes it kitten soft, and I was pleasantly surprised when my coverstitch didn't try to eat it! I color blocked the sleeves and body with the wine and grey colorways, for a casual feel.
Finally, I turned to the Union St. Tee to pull it all together.
I've been itching to try the new, updated version, and, having run out of fabrics from my order, I turned to a piece of bamboo spandex from Pretty Posh Prints that I've had in my stash for a while. It's an unusual color, but it matched the grey/green tone of my Capsule Cardigan perfectly.
The bamboo was a bit of a struggle to tame into the v-neck shape, since I was afraid of pressing it and melting the fibers (even with a pressing cloth, it always seems to happen!), but I managed.
I find the fit of this to be more fitted than the previous version- still a slightly relaxed fit, but more fitted than I was expecting. My version is not totally true to the pattern however, since I used the hemline of the Lane Raglan and angled out the bottom slightly in the process. The neckband was also a tiny bit too short for this fabric- meaning I got a few gathers toward the top of the shoulders, but I was NOT going to unpick that "V" once I had it done! I don't blame the pattern at all here- I usually measure my neckband/neck opening before cutting, but forgot this time!
When I'm wearing the shirt, they smooth out pretty well, and I love the fit through the chest and arms, so I'm sure I'll be back for more UST's soon!
Well, that's it! My first Capsule wardrobe! Here are some more photos that demonstrate how the pieces can be mixed and matched below!
Cocoon Cardigan with Union Street Tee:
Capsule Cardigan with Lane Raglan:
Lulu Dolman with Capsule Cardigan: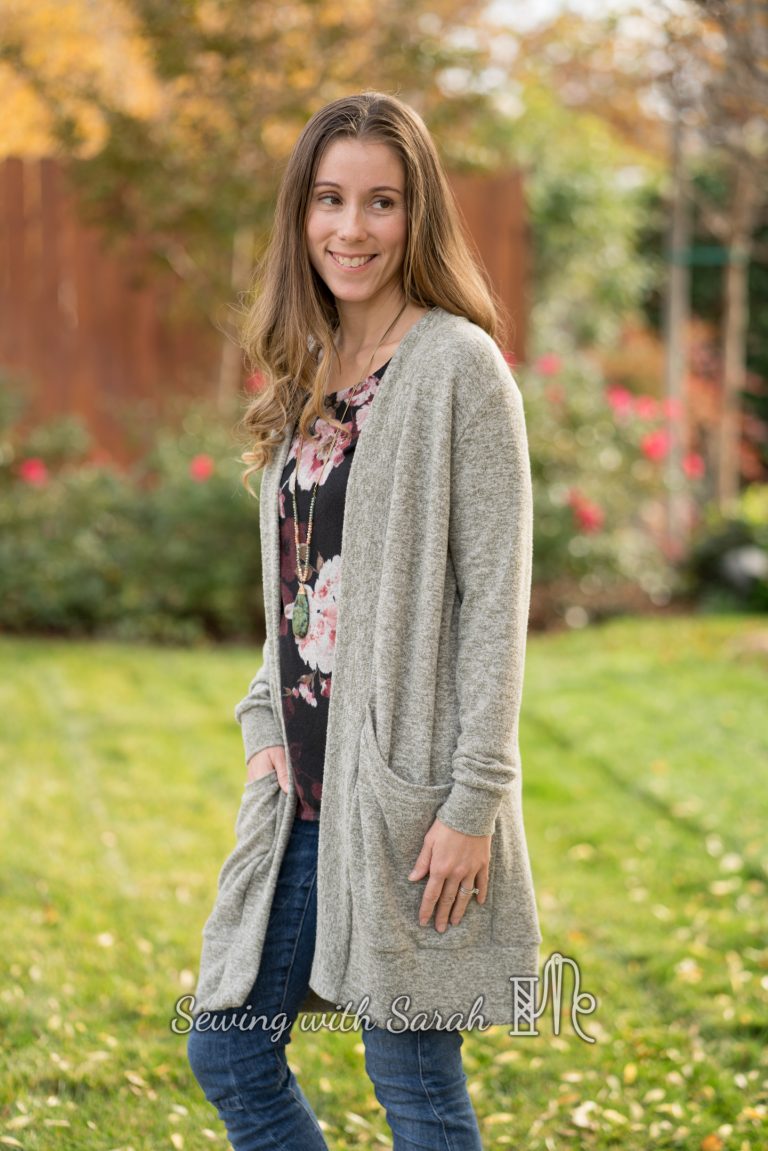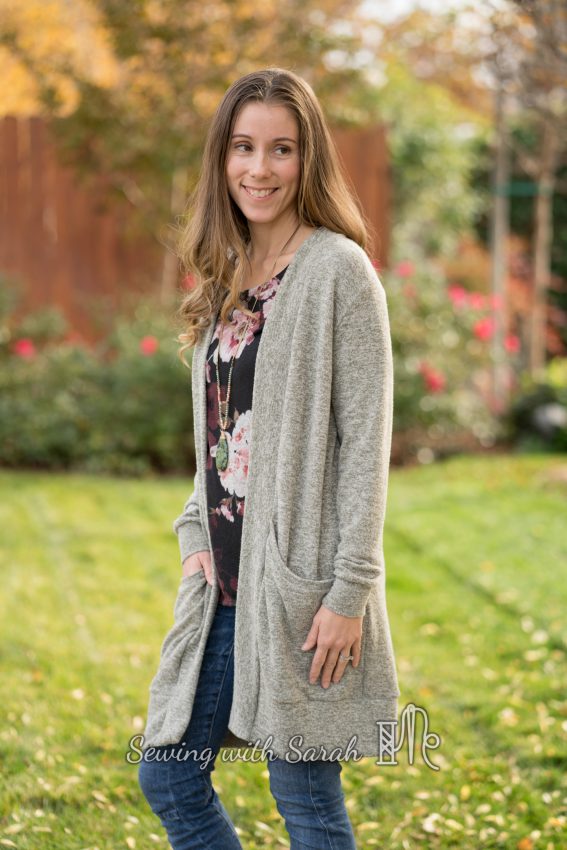 Capsule Cardigan with Union Street Tee: 
Now…. you might be wondering, what about bottoms? Aside from my comfy "house pants", I generally wear skinny jeans or slim fit trousers when out of the house- and I haven't gotten into making either of those just yet. But, I can promise they ARE on my list of things to sew in the new year, so I'll take any advice you've got!
Have you made a capsule wardrobe? How did you get started? What were your favorite pieces?
If you enjoyed this post, you can follow me on Instagram or Subscribe to my blog here!
Note: This post contains affiliate links. Thank you for your support!