Hello friends! Today have a couple fun new makes to share with you.
Our winter in the keys really did feel like a tropical paradise, and when I saw this print come up from Sew Dynamic Fabrics, I couldn't resist snagging a yard to make myself something.
I started with the Greenstyle Spark Tights, which I had made before, and alluded to perfecting in my last post. The first time I had made these the rise was too long, and I was constantly having to pull them back up as they slid down my body. Not a good thing for trying to exercise, I can tell you.
Frustrated, the pair got donated to a friend with a longer torso and the pattern sat unloved in my stash for a while, until Sew Dynamic had a sewalong recently. I decided to give them another try, and I'm so glad I did! Since they don't have a center front seam, I shortened the rise by cutting into the front curve at the bottom of the crotch and reducing that by 1/4″. I also stretched the gusset at the crotch a bit more than the pattern calls for, to keep from getting wrinkles there.
I'm not sure why I was so stymied by making these adjustments in the past, because they were simple and worked perfectly. I have to reduce the rise of the Inspires (sewalong HERE) and Cavallos (sewalong HERE) so it's no surprise that I would need to do so with the Sparks as well, and now I've added another favorite to my TNT list.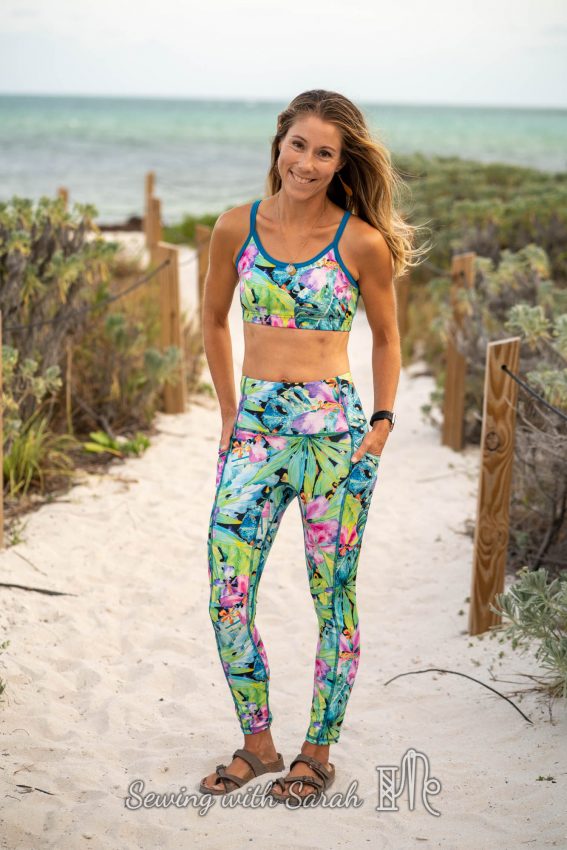 I really love the gusset on these for weight lifting, the pockets are perfect for running (or just running around with kids!), and the wide waistband holds everything in just right.
In keeping with my Greenstyle theme ,I made a cropped cami tank for a lightweight sports bra (SewAlong HERE as part of my swim sewalong a couple months ago).
I also had enough scraps leftover to make my daughter a Peekaboo Patterns Melanie Dress with an A line skirt (from Bow Button lightweight ABP in pink).
Sophia is really into feeling stylish right now, so we let her take the lead on her photo poses.
We took these photos the same evening as the ones in my previous post, at Bahia Honda State Park in Florida. Florida has some gorgeous state parks, and I ran over to this one several times a week while we were nearby, loving the view and the ocean air.
Shell finding was one of our favorite past-times while we were down there, and we would often spend an afternoon paddling out to "little Conch island" to find conch shells and come back with smaller clam shells to make necklaces and jewelry. The conchs are regulated/protected, so we were careful not to take those, but the rest of the shells were fair game!
Fabric Details:
You can find the Tropical Paradise fabric currently on pre-order from Sew Dynamic Fabrics here. These leggings were made with the AK265 base, which dries really quickly, and feels smooth to the touch.
Cami Tank SewAlong Link
My SewAlong for the Cami Tank is on my YouTube Channel HERE
If you enjoyed this post, you can find all my sewing tutorials HERE on YouTube, or at the top of my blog under the "Sewing Tutorials" link (subscribe HERE). I received the fabric in this post for free (well, most of it) but the opinions are my own!