S.O.S. Pants, fitting, and my love for elastic waists….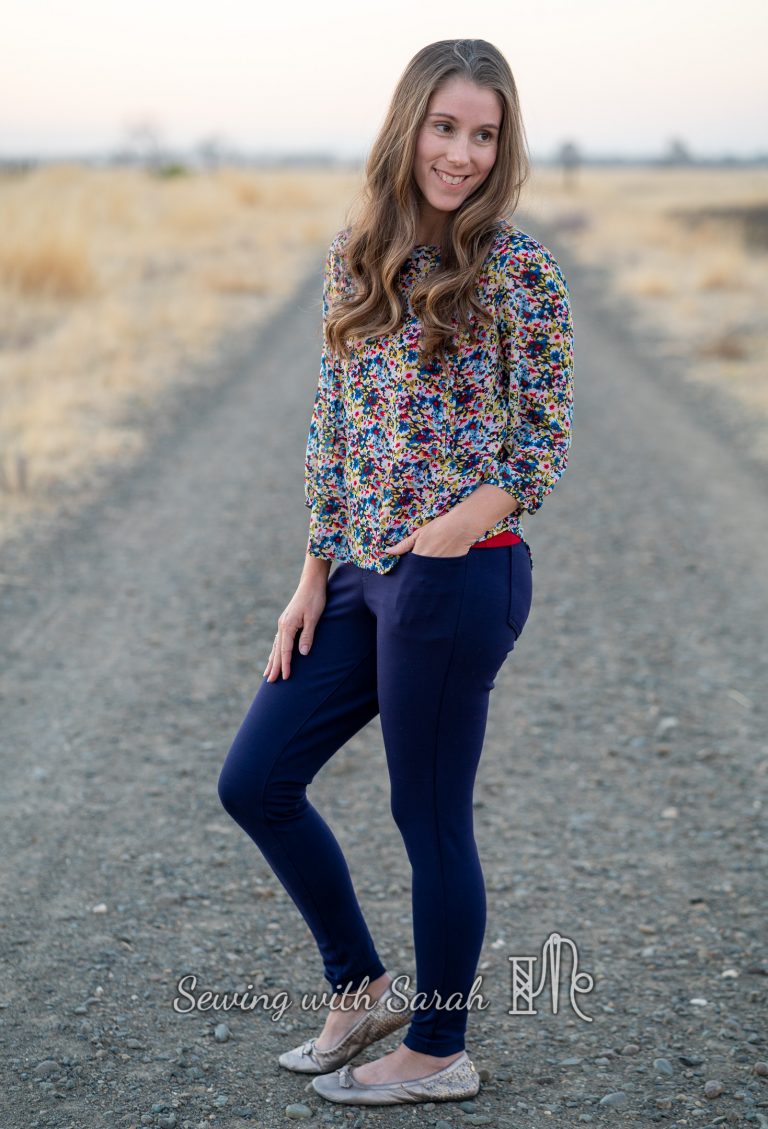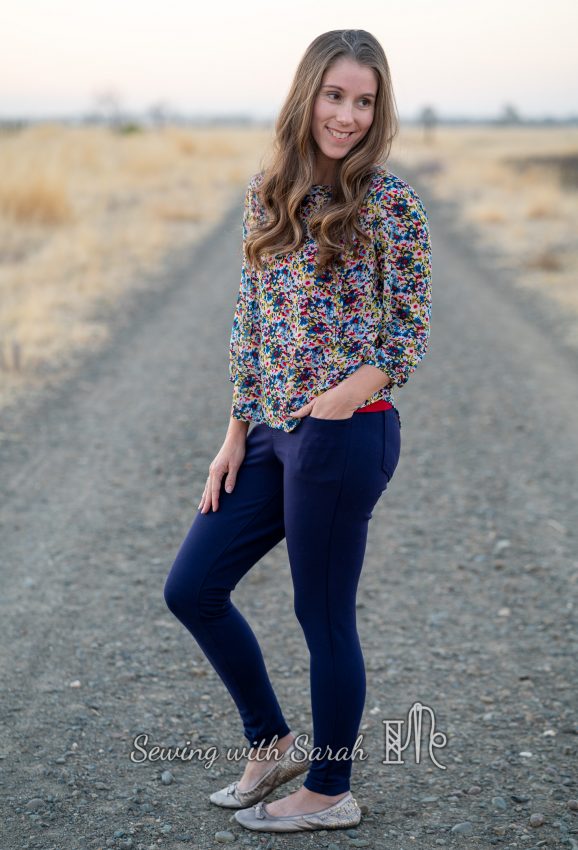 A while back, before all the craziness came to town (see this post if you want to know what I'm talking about!), I opted to test out the updated version of the S.O.S. pants by Patterns for Pirates.
I've actually owned this pattern for over a year, but never got around to sewing them, and the test seemed like a great opportunity to motivate myself into making a pair (or ten!). The mashup between leggings and jeans is right up my alley, and I looked forward to trying to perfect my fit.
In addition, the original version of this pattern got a fair amount of criticism in the blog-o-sphere, and I was hoping to help find a solution to some of those problems- it's always good to be part of the solution, right?
At this point in the post, I'd love to be able to tell you in this post that I found the holy grail of sexy elastic waist pants, but, alas, I'm still struggling with the fit on my body. When it comes to pants, even stretchy ones, there are no real shortcuts- a fair amount of fitting is to be expected, unless you happen to be lucky enough to have a relatively "standard" shape (whatever that is!).
I'm not telling you all this to discourage you, but rather to help you view the project realistically. Patterns for Pirates did a lot of great work adjusting these pants so they fit the majority of bodies fairly well, and I think they're well worth buying if you like the style (which I totally do). I'm also aware that I'm probably being extra-nitpicky- that's the advantage (and also the curse!) of sewing your own clothes- we often expect them to fit PERFECTLY. These are totally wearable as is, and I'm enjoying them while continuing to perfect them.
The pockets are my favorite part, and something so often missing from store bought skinny pants (WHY do they go to the trouble of making FAKE front/Back pockets??).
I would also recommend consulting the following sources, as I am, to help you diagnose and remedy any "trouble spots". These books and websites are my go-to resources for pants fitting, and I think they are equally helpful on a pair of leggings as they are for jeans, and anything in the middle.
The Complete Photo Guide for Perfect Fitting
5 out of 4 Pants Fitting Guide (online resource)
Closet Case Files Pants Fitting Guide (online resource)
Personal Fitting Experience
My personal fitting issue on these pants, which I often encounter in ready to wear as well, is a bubble on my inner thigh. It's almost like my inner thighs don't quite fill out the pants- which is odd, since I don't think of them as being particularly "thin".
When I was making the Ginger Jeans, the workshop instructor showed me how to scoop out a part of the pattern at the inner thigh from the back, helping to eliminate it, but that trick didn't quite work on this pattern, perhaps because of all the stretch in this fabric?
It's also worth noting that I don't get this effect on leggings or really skinny jeans, since they are drafted with so much negative ease, but I do see it frequently on semi-fitted pants. I also found the calves to be really tight on me (maybe it's those spinning workouts adding some muscle there), and had some wrinkling under my butt, again, not uncommon for me with a semi-fitted pant and my slightly fluffier than a pancake bottom.
Seriously, I'm sticking it out a bit here, to give it some volume, but the universe is an unfair place when my calves get beefier and my bottom stays flat!
Fabric Details
For my fabric, I used ponte from Surge Fabric Shop. Ponte is a great fabric for this pattern, but it doesn't hide "lumps and bumps" very well- I think next time, I'd use some of the textured athletic fabric from the shop instead.
I was able to do some work fitting these before the testing period ended, and might do some more in the future. The moto-hack for these (complete with pattern pieces!) is one of my main motivations- I'd love to rock those- one can't help but feel "cool" in moto pants (and ALL the better if those moto pants have an elastic waist, so it doesn't bind as I sit on my imaginary motorcycle).
If you like the pattern, but don't want to do alot of extra fitting, you might check out the "straight leg" option, which is much less fitted, and a great option for more formal office settings.
Overall, I think this was a great update, and all the testers rocked their versions (especially the distressed ones!). I'm looking forward to another opportunity to work on my personal fit, and to learn from other sewists as they do the same!
You can find the pattern HERE, on sale for a limited time. There's even a girls version to match!
If you enjoyed this post, please feel free to check out my Instagram, where I try to document my sewing adventures in fewer words!
Note: This post contains affiliate links. Thank you for your support!