Fall Sewing Plans: Woven Edition!
I've fallen in love with wovens, and can't imagine leaving them behind as summer fades….so I've come up with a some fall plans that showcase a few of my favorite (or soon to be favorite!) woven patterns and fabrics. (New to sewing with wovens? Check out my post here for everything you need to get started!)
Fall in my neck of the woods can vary wildly between unbearably hot and surprisingly chilly- so any capsule wardobe needs to reflect this diversity in temperature. My favorite colors tend to shift a bit as well, leaning toward deeper pinks, reds, teal/aquas, muted blues, and some orange and brown tones to capture the glory of nature in this season.
As if she read my mind, I recently received a mystery box of woven fabrics from Sew Vagabond (thank you Emily!), so I've done some pattern digging, and laid out a few plans to keep myself on track!
I reserve the right to change my mind at any time, as I'm somewhat of a magpie when it comes to patterns, being easily distracted by a new release, but also loving it when I find a hidden gem that's been in my stash a while and never sewn up. I'd also LOVE to hear any input from you- if you have a suggestion or idea for these fabrics, please leave a comment below.
Let's get started, shall we?
Pink Wool peach floral- 1 yard.
This is one of my favorites. Since I've only got a yard, a top seems most appropriate. I"ve been lusting after the Hey June Trevi since it was released, and it looks loose enough around the hem for pull up nursing access (I can wear a cami under, but honestly I lost any anxiety about showing a little tummy while nursing long, long ago). I've also thought about hacking the Trevi to have the buttons in the front, which would enable me to make a dress version. Either way, this one's gonna get made because I love floral tops, and it will be easy to layer under a cardigan as the weather cools.
2. Orange/teal floral crepe- 2 yards.
This fabric reminds me of the tropics, and since we are planning a trip to Hawaii in a couple months, it will likely end up as a Willow Kimono from Designer Stitch. I just need to find a matching trim for the hem- I think I have a few in my stash already!
3. Blue/brown boho crepe print – 1.5 yards.
My husband has been on me about Twig and Tale patterns for months, and they just released the women's Driftwood blouse that would be perfect for this print. Plus, if I don't make it, he's going to steal my sewing machine and starting making a bunch of Pathfinder Vests for the kids. Gotta beat him to the punch.
4. Indigo tye-dye challis – 2 yards.
This one will be a pair of Jalie Fluid Joggers. I love a good pair of joggers, and a woven pair would be a fun change.
5. Mint linen blend – 2.5 yards.
I've actually already made this one up- into the Miss Olivia Dress by 1 Puddle Lane (available through the current issue of One Thimble). I love how it turned out, and this linen was a dream to sew. (Blogged HERE)
6. Elephant print rayon challis – 1.5-2 yards.
I don't usually go for animal prints on me, but this one is nice and mature, and would look beautiful as a pair of Ladies Harem Pants from Pattern Emporium. 
I haven't ever made one of their patterns, but they keep popping up and I'd love to check them out!
7. Purple/pink rose floral crepe- 2 yards.
This fabric checks all the boxes for me: floral, pink/purple, gorgeous drape. I'm loving the wrap pant trend right now, so this might end up as a pair of Ravanna Wrap Pants from Designer Stitch. 
8. Fushia/aqua/blue crepe- 1.5 yards.
I love this print- and I think it would be awesome as a Sarah Nation Maxi Skirt (from Greenstyle Creations)! Hoping I have enough- I can always do the waistband in a contrast print. I love the wide waistband on this pattern- it's very flattering on my body type.
9. Geometric dusty blue cotton woven- 1.25 yards.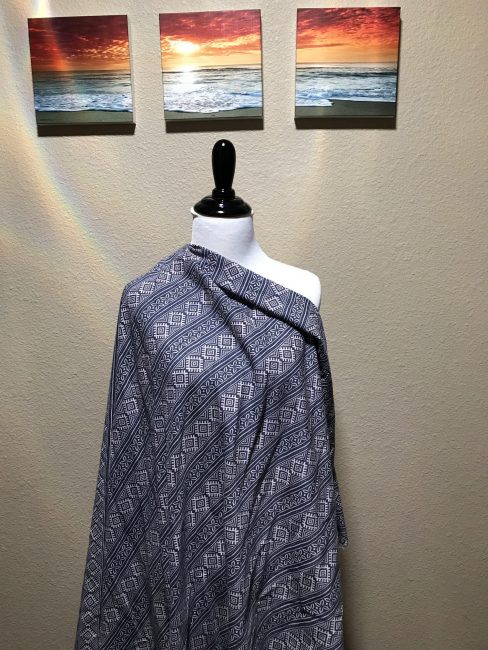 This is similar to a lightweight cotton lawn, with a brushed feel. It's not my usual style, but its very soft, so I want to find something nice to do with it! I was initially thinking the Greenstyle Aspen Pants…which look super comfy, but I'm not sure if I have enough! I'd love some suggestions for this one!
Whew! I think that's it so far for wovens…but I'll have a knit planning post up soon! I just realized that I've chosen a lot of bottoms- so there needs to be some knit tops to match!
Don't forget to leave me some suggestions (or encouragement) in the comments below! You'll also want to check out Sew Vagabond if you have time- they have an awesome selection of woven fabrics!
Happy Fall y'all!
Note: This post contains affiliate links. How else can I afford all these new patterns I share? Just kidding- any clicks are appreciated!