3 Generations of Harbor Knots
After sewing the adorable Harbor Knot/Juniper Joggers set for the Princess, I just couldn't resist sewing up another three Harbor Knots for myself, my mom and my daughter. (Bundle with womens, girls and baby on sale here)
This floral double brushed poly fabric is from Knitpop (looks like it's sold out, similar here) and was initially selected and purchased for another pattern for my mom, as payment for rescuing me from the Great Serger Disaster  of 2016 (My serger went belly up in the middle of sewing up Christmas Pajamas for family photos, and she generously offered to buy me a new one to save the day!).
Obviously, that was a while ago, so I desperately needed to put some of my other obligations aside and sew up something for her ASAP. I cut and sewed up her Harbor knot, but then the pattern test for the girls and baby versions came up, and I thought I just *might* have enough fabric left from my 2 yards to eeke out another version for myself or the baby. Well, it turns out I had enough for BOTH of us, so we ended up with a matching trio of tops!
I've already waxed poetic about my love for this pattern here, so I'll just show you the pictures! Aren't we adorable? Do you see the resemblance?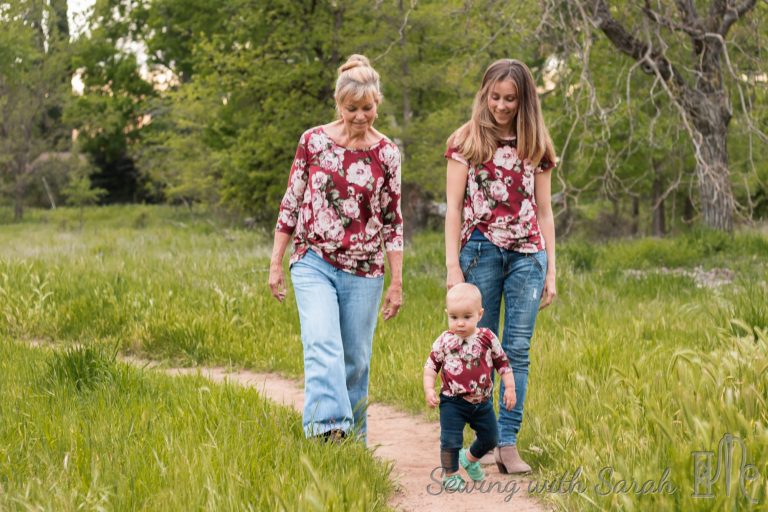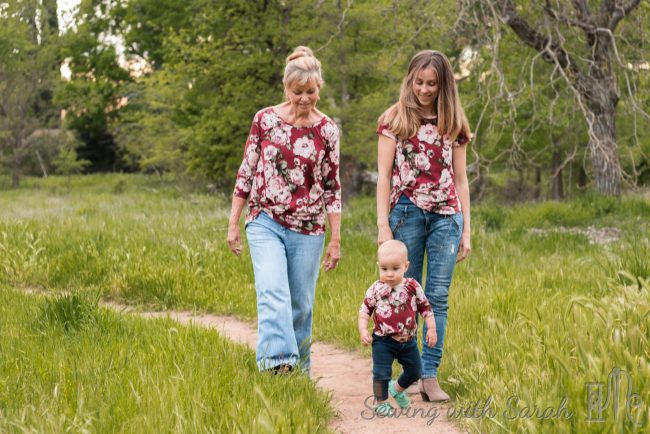 These photos really do nothing to describe the epic feat that was trying to shoot all three of us. At once. Looking in the same direction. With mosquitos. And a cranky baby. And my boys trying their best to find the thickest poison oak to trudge through. However, we managed to laugh through the chaos, have a good time, and make some memories. Isn't that what family time is really all about?
What are you waiting for? Book it like a baby to the website and grab your patterns while they're on sale!
Get the bundle with all sizes HERE 
The Girls/Baby bundle HERE
The Baby pattern HERE
The girls pattern HERE
The women's pattern HERE
Note: this post contains affiliate links, which means that if you choose to purchase a pattern, at no cost to you, a small portion of that gets recycled into my fabric/pattern addiction! I was provided the girls and baby patterns in exchange for testing, but all opinions are my own!