Midway Bomber Jacket Sewalong: Sourcing Fabrics/Supplies
Midway Bomber Jacket Sew-Along Part 1
I'm so excited to be doing a sew-along for the Midway Bomber Jacket! I loved this jacket in testing, and had plans for several more, so I thought, why not invite some others to sew along with me and have fun together! Brenda of Pretty Posh Prints was gracious enough to allow me to host the event in her group, since she has some of the most amazing liverpool and scuba that is perfect for this pattern! Thank you Brenda for having me!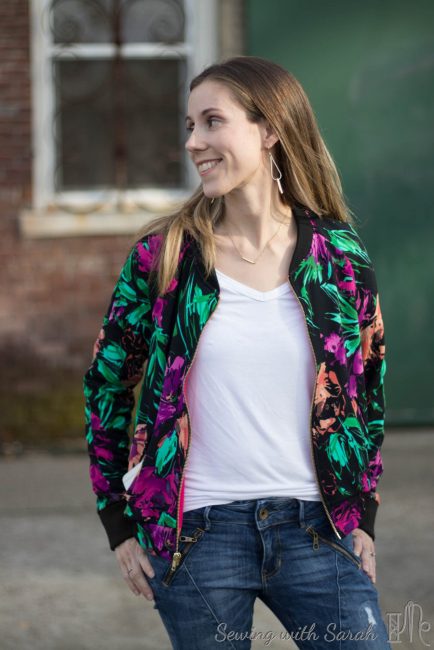 (this jacket was made with Brenda's "Leilani" Liverpool)
Are you looking forward to creating one (or more!) beautiful bomber jackets of your own? Then read on!
Note: links are provided for your convenience, but there are many fabric/trim options and this is just intended to give you an idea what to look for, rather than being an exhaustive list. I am in no way sponsored by any of these companies (though they can send me free stuff if they want!)
The first thing you have to do (in addition to buying the pattern- special discount code available in the event link) is decide what fabric you're going to use. If you're still needing inspiration, visit my pinterest board here. Joni Pearce also put together an awesome bomber jacket Pinterest board here.
Choosing your Outer (shell) Fabric
This pattern has the option of being lined, or unlined. For the shell, or outer fabric, I would recommend a stable knit with about 50% stretch, such as liverpool, ponte, doubleknit, sweatshirt fabric, french terry, or scuba. If you're new to sewing, Brenda at Pretty Posh Prints has a helpful fabric guide here. You could even use a stretch woven fabric, if it met the stretch requirements. Liverpool and Ponte will be more breathable than scuba, so climate and season are factors you will want to consider. You could even do the sleeves in a mesh fabric, for extra ventilation! I think a lace version with a lining would also be lovely.
Here are some examples from Pretty Posh Prints:
Scuba
Ponte
The pattern also has an option for a sleeve stripe, which you could do in a contrast fabric. Of course, its always fun to push the envelope a bit, so if you have the perfect rayon spandex or cotton lycra to try it would be fun to see how that changes the look!
Lining Fabric
If you are choosing to line your jacket, you're going to want something with stretch that is a little bit "slippery", so that you can slide your arms in and out easily. For my first jacket, I chose a matte stretch charmeuse from JoAnns (similar here). It had approximately 20% stretch, so I had to use a smaller seam allowance to avoid feeling constricted. Ideally, you would use something with more like 30-50% stretch. For my second jacket, I used a thin performance knit I had in my stash, and this was perfect (bonus: it wicks sweat!). You could also use a stretch athletic mesh fabric, or a stretch tricot or another stretch woven. The Fabric Fairy has these stretch wovens avaiable (I haven't tried them, but they look pretty nice!). I think a thin swim knit would also work well. You *could* use something like double brushed poly for the lining, but it wouldn't have that "slippery" feeling. Knitpop also has a "quilted bomber jacket lining" here. Its not slippery feeling, but it is quilted and would add a little warmth to your jacket if you're sewing one for cooler weather.
Zippers
You're also going to need a SEPARATING zipper. I have found vast quality differences between what's offered at JoAnns and what is available from places like ZipperStop or Pacific Trimming. If you're getting a YKK zipper (i.e. from ZipperStop), the #5 is a good weight for the front zip- you could use a #3 for the pockets, if you're planning on doing a zipper pocket modification. The nicer ones from Pacific Trimming (if you really want to splurge, go for a Riri zipper!) and ZipperStop are smoother to pull and have teeth that have been filed down so they aren't rough and don't catch on your clothes. They will also shorten them for you to a custom length, and allow you to select an open or closed zip (closed for the pockets, open for the front).
The length of zipper you'll need can be found in the pattern. I highly recommend a metal zipper, rather than a nylon coil or plastic zip, because they are WAY easier to shorten. I'm still a little traumatized from my experience trying to shorten a nylon coil zip. (mental shiver). If you're going to try out a zipper pocket or zipper sleeve modification, measure the opening of your welt and get a couple close ended zippers for that. You could even do an exposed lace zipper for the front!
Ribbing
The signature touch on a bomber jacket is the ribbing for the cuffs, Waistband and neck. Ribbing varies greatly in its weight and stretch- you'll need something heavyweight with good stretch and recovery. Some testers found that the heavyweight rib at Joanns worked well- others used Supplex or double knit for the ribbing as well as the jacket. My favorite ribbing was this rib knit from Pacific Trimming, or this rib from Mood. Keep in mind you're going to need about 64 inches, and they often come in a 36 inch strip, so two of these will be needed. They aren't cut continuously if you order from Mood or Pacific Trimming. Rockywoods also has a couple heavyweight trims (here and here) that Angelyn of Greenstyle Creations has recommended, but I haven't tried it, so I can't speak to that personally. Whatever rib you choose, just make sure its a thicker trim- if you choose something too lightweight it might not work well, especially for the collar. If you find that what you have isn't heavy enough, you could interface it, but you would likely loose some stretch this way.
Notions
Finally, I highly recommend having some Washaway Wondertape and some lightweight fusible WOVEN interfacing. Fashion Sewing Supply is my favorite place to buy interfacing- its very high quality and a little bit goes a long way. JoAnns also has fusible interfacing, if you're looking for a more local solution. I tried using a knit interfacing for the welt pockets, but it didn't work as well as the woven. However, if you're interfacing your rib knit for your collar, you'll want it retain the stretch, so you might want to use knit interfacing there. You'll need the interfacing both for the pocket and for the zipper opening, and the Wondertape makes inserting the zipper more accurate and less frustrating.
Of course, you'll also need matching thread, sewing machine needles, and the like.
A note about supplies and shipping: In my experience, Pacific Trimming was the fastest shipper, and it took about a week for items to travel from the east to the west coast to reach me, so depending on where you live, I would recommend ordering your supplies now so you have them ready when we start on 4/21!
I'm hoping this helps answer some questions about fabrics for the Bomber Jacket- head on over to the group and post photos of your fabrics and supplies as you get them in! If you have any questions, please post them below or in the event, and I'll do my best to answer (or call on the experts!)
The Sewalong is over now, but you can access all the hacks for this here! I've written hacks for a reversible jacket, a hood and binding, a facing, and zipper pockets!